Nothing satisfies like a comforting bowl of soup when you come home feeling tired and chilled, or need a remedy for a cold. But lots of chopping and long wait times for simmering don't have to be part of the equation. Here are 10 warming and super easy vegan soups that combine fresh veggies and shortcuts that result in a good-sized portions. It's no accident that more than half of these aree Asian-style soups, which as a matter of course require little cooking. But they'll all have you saying "Soup's on" in 20 minutes or less!
Japanese Noodle Soup with Crisp Vegetables: In this Japanese-style soup (shown at top), udon noodles in a hot broth are topped with crisp raw vegetables, making for an offbeat and pleasing presentation. It can be made minutes before you wish to serve it. The traditional way to eat this is to "slurp" the noodles with the help of chopsticks, then finish off the remaining soup with a spoon.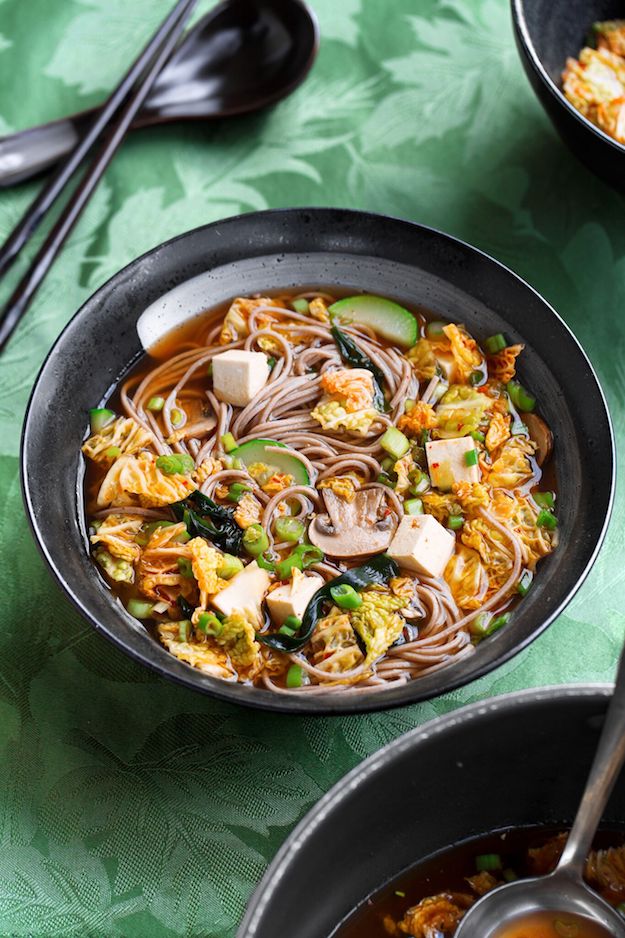 Instant Kimchi Noodle Soup: This bold-flavored soup by Hannah Kaminsky features  buckwheat soba noodles, which take only a few minutes of cooking to reach al dente perfection while adding depth and a pleasant earthiness to the entire bowl. Spicy Kimchi is the star of the show here; read labels carefully to make that you're getting a brand free of fish products.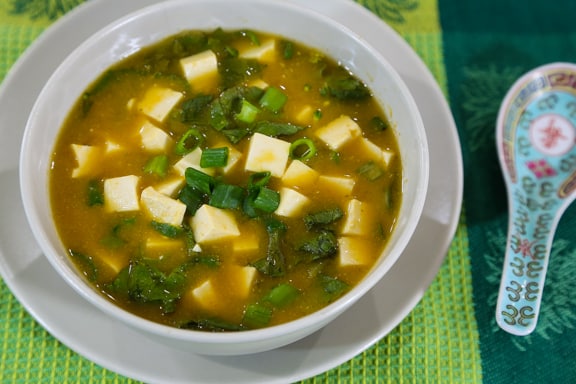 Nearly Instant Vegan Miso Soup: It's nice to know that making miso soup, similar to what you get at Japanese restaurants (if you're lucky enough to find one without fish broth) is quite easy. Lately, though, I'm not fond of what kombu (a sea vegetable) does for the soup. It has a fishy flavor (after all, it comes from the ocean), a weird slippery texture, and it's expensive. Fortunately, this vegan miso soup recipe is just as good without it.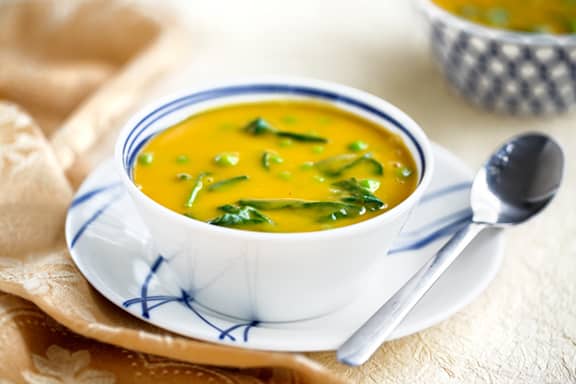 Instant Butternut Squash Soup with Spinach and Peas: Pureed butternut squash soup is so comforting. But unless you've got time to spare, making it from scratch is a bit of a project. A good one, mind you, but not one that most people would embark on when they walk in the door from a long day of work. To make this nearly-instant butternut squash soup with spinach and peas, we use the soup base that comes in 32-ounce containers.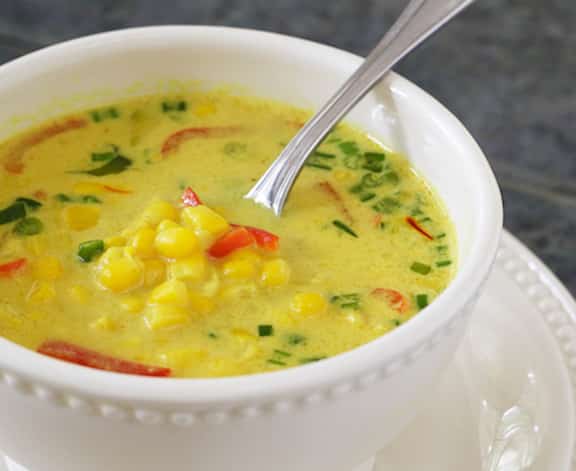 Nearly-Instant Thai Coconut-Corn Soup: Here's a soup that's great for any kind of weather, not just when it's chilly and rainy. Because it's ready to serve in 20 minutes, it's for any time you want soup in a hurry. You can even chill it and serve it cold on warm days.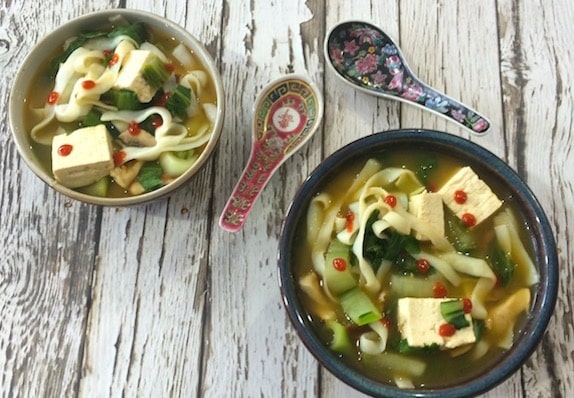 20-Minute Asian Vegetable-Noodle Soup: When it's cold and damp outside, or when you're sick with cold or flu, you might be tempted to send your significant other to pick up some soup from the local Chinese eatery, as we used to do on such occasions. It was usually something called Bean Curd Vegetable Soup. The veggies were never very vivid or interesting, but still, it provided instant comfort. Here's an equally comforting version for you to make at home that might be quicker than take-out!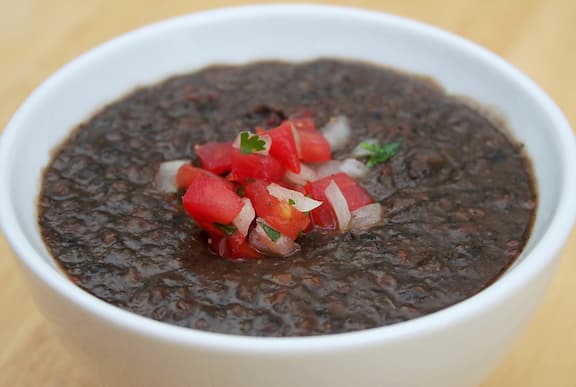 Very Quick Black Bean Soup: Making a soul-satisfying black bean soup in such short order is a rarity, but organic canned black beans are so flavorful that they do the trick perfectly. Organic black beans are packed in a nice thick base, rather than a briny liquid. Take note of the variety of toppings you can use to dress the soup up each time you make it. This is delicious served with cornbread or a leafy wrap.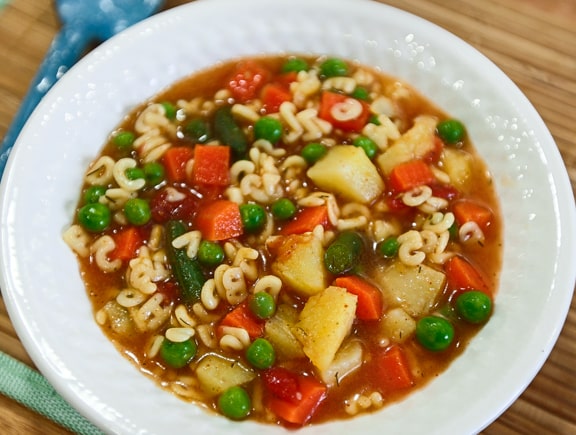 Alphabet Vegetable Soup: This tasty soup comes together, and is a fantastic way to get kids of all ages to eat their veggies! As kids get older, you can leave out the alphabets (or replace them with tiny shells, orzo, or other small pasta), but those letters floating around in the soup gives it great appeal to young eaters. This soup will recall the canned version—but it's much better and fresher.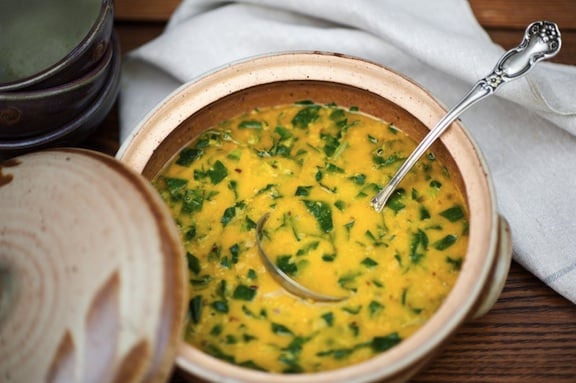 Coconut Curried Red Lentil Soup: The red palm oil and red lentils give Leslie Cerier's soup a beautiful orange color. Feel free to use any other kind of oil, and any greens you like such as spinach, collards, kale, or mustard greens.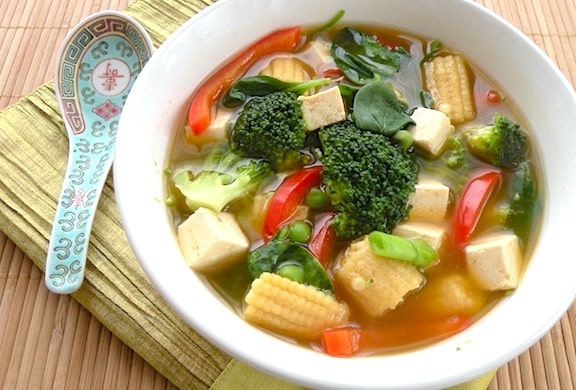 Colorful Asian-Style Vegetable Tofu Soup:  Last but not least, another quick Asian-stye soup. This quick and colorful bowlful will please anyone who enjoys Asian flavors. Just toss everything into a soup pot and in a few minutes, it's done! Try enticing kids and teens with this simple soup.