Arugula leaves are tender, bite-sized, and packed with a distinct, tangy flavor. Sometimes referred to as "rocket," this vibrant leafy green is the star of the year-round arugula recipes up ahead.
They're the versatile friend at the dinner party, blending well with nearly every dish. Not only that, but they're loaded with nutrients; studies have suggested that a sulfur-containing compound called sulforaphane gives cruciferous vegetables both their bitter taste and their cancer-fighting power. It's also packed with vitamin A, vitamin K, and antioxidants.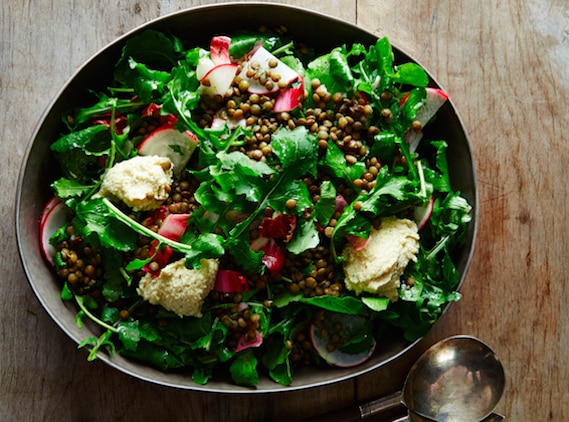 French Lentil and Arugula Salad with Herbed Cashew Cheese: Gena Hamshaw's recipe is inspired by that traditional combination of Le Puy lentils, walnuts, and goat cheese, with crisp arugula and radishes adding a welcome crunch and a peppery kick. In place of the goat cheese, she use tangy, salty Herbed Cashew Cheese.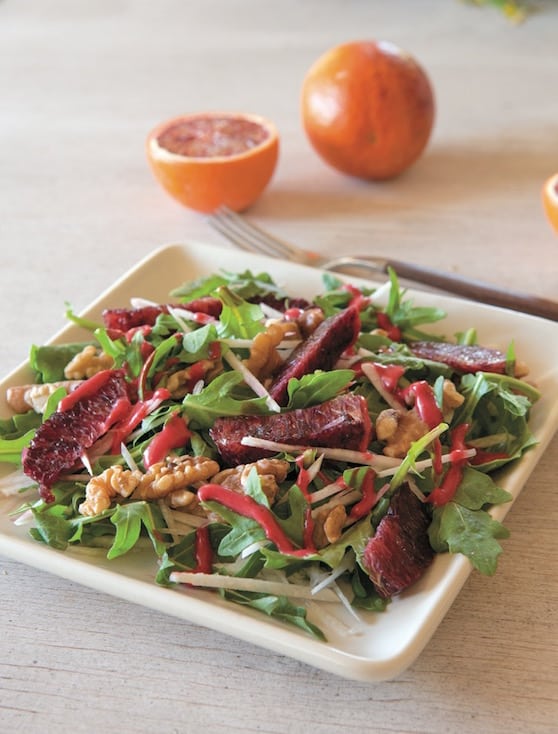 Arugula Salad with Jicama, Blood Orange, and Raspberry Vinaigrette: According to Judita Wignall, this salad is "almost too pretty to eat." She also recommends pairing it with a savory soup. We'll take her word for it!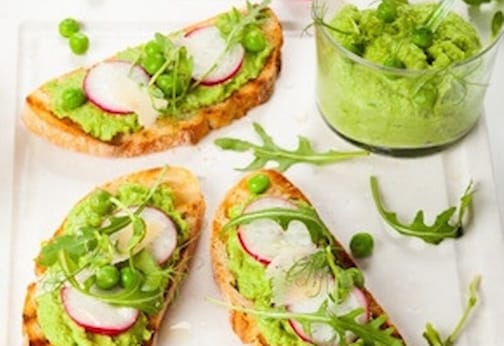 Green Pea and Arugula Spread: This bright green pea and arugula appetizer or sandwich spread will bring springtime to your palate, but it can be enjoyed year-round. You can also try it as a dip for raw veggies!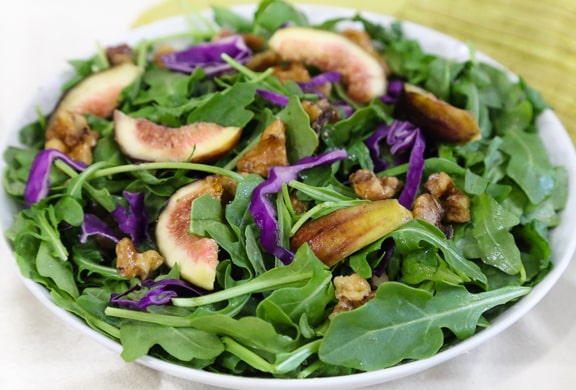 Arugula and Fresh Fig Salad with Maple-Glazed Walnuts: While figs are in the peak of their prime during the summer months, we recommends trying this recipe with apples or pears if you get a hankering for this dish outside of fig season. The synergy of flavors of arugula, fresh figs, and toasty maple-flavored walnuts prove that you don't need a lot of ingredients to create an exciting salad.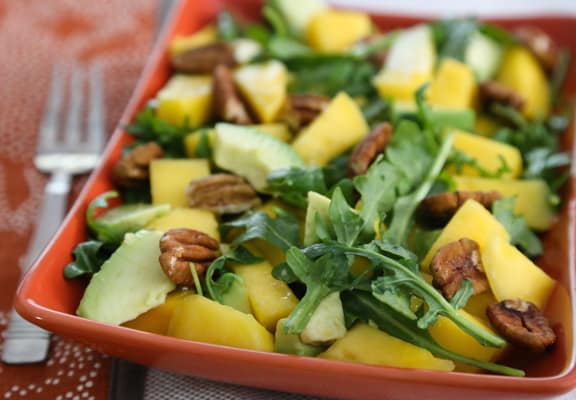 Mango, Avocado, and Arugula Salad: Winter weather dragging you down? Reintroduce a little taste of spring with this vibrant, yet simple dish. This is good with no dressing at all, but if you'd like, you can pass around homemade or store bought balsamic vinaigrette or raspberry vinaigrette. Or, just step up the lemon and lime juice and add a splash of olive oil.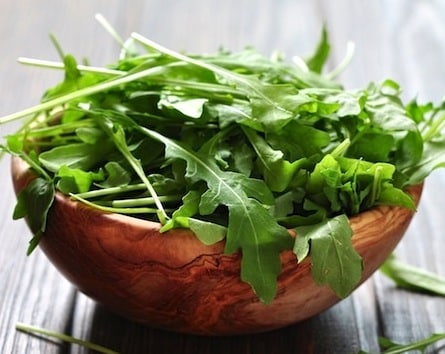 Arugula Strudel:This treat is reserved for special occasions, but it's so easy, we may have to bend the rules.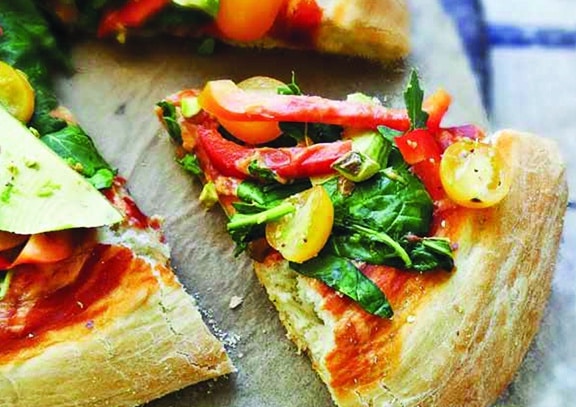 Arugula Salad Pizza: We'd be hard pressed to find someone who doesn't love pizza. And now, a pizza discreetly loaded with nutrients you can indulge on, say, the whole pie? We won't blame you. This fresh green salad and whole grain pizza by Sharon Palmer is an all in one meal that you can whip up in 45 minutes.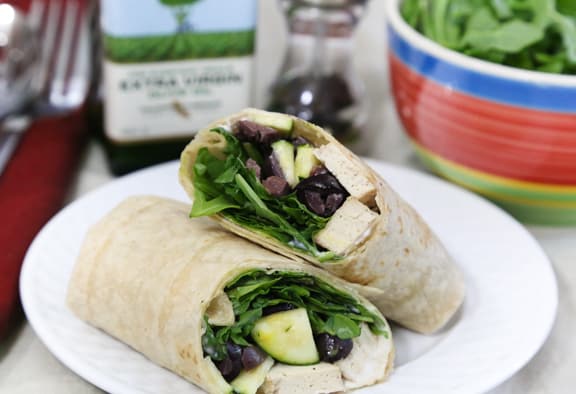 Baked Tofu, Arugula, and Olive Wraps: Baby arugula livens up the flavor of these simple wraps featuring baked tofu, crisp cucumber, and olives. The combination of flavors makes it one of our favorite wraps — they're so tasty, and make a great portable or at-home lunch.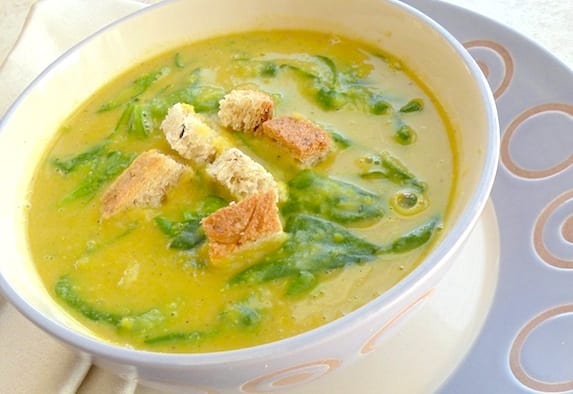 Red Lentil Soup with Arugula or Spinach: This is a wonderful basic recipe for building a flavorful plant-powered soup. It comes together quickly, and leaves room for personal embellishment. It's a warming homemade soup you can have on the table in less than 45 minutes.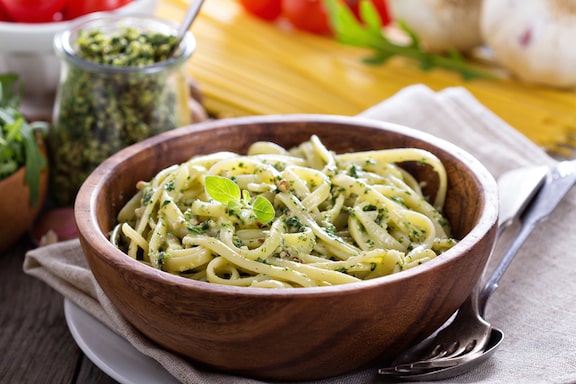 Arugula and Miso Pesto: Pest isn't just exclusive to basil! This delicious pesto turns ordinary carbs into special meals." Carbs are already pretty special, but we're always open to adding nutrients into our favorite food group whenever possible.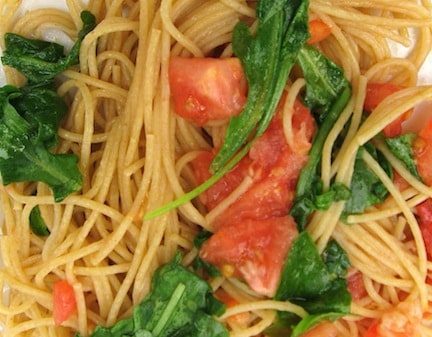 Arugula Pasta with Salsa Cruda: When the produce is fresh and locally grown, fabulous food comes together easily and fast, according to Ellen Kanner. You can say that again! This simple, no-cook sauce comes together fast, especially satisfying during the summer heat when the last thing we want to do is turn our stoves on.