Not long ago, prepared hummus became one of the fastest-growing snack foods in America. This Middle Eastern classic is based on healthful chickpeas and tahini, so it's a welcome alternative to the usual starchy and/or sugary junk foods people often gravitate to. And what a nice bonus it is that hummus, a Middle Eastern classic, is already vegan. Here are 5 great ways to use hummus, aside from its most common one as a dip for fresh pita bread.
Of course, you can make your own hummus and experiment with your own creative combinations and flavorings. But here at Vegan Food Hacks we're very lazy, and fully endorse the store-bought varieties. There are so many varieties and flavors that the product often has its own bay in the supermarket produce section!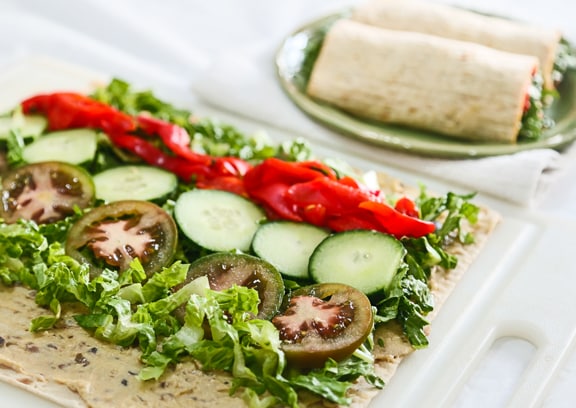 A spread for wraps or sandwiches: This one might admittedly be coming straight from Captain Obvious, but for anyone looking for a nice change of pace for wraps or sandwiches, you'll thank him for the reminder. Hummus keeps well on bread and wrappers, but doesn't make them soggy if you pack them up for school or office lunch a few hours later. It also helps stick everything together!
Hummus  goes well with leafy greens, avocado, bell pepper strips, shredded carrots, leftover cooked grains, and/or other legumes, in a variety of combinations depending on what's in the fridge.
If you want more specifics, see Hummus and Veggie Lavash Wraps, Hummus, Avocado, and Baby Spinach Sandwich, Hummus Wraps with Grains and Greens, and Hummus, Cucumber, and Avocado Wrap. But in all these cases, these are so easy that you can just follow the photo rather than the recipe, no need to obsessively measure ingredients.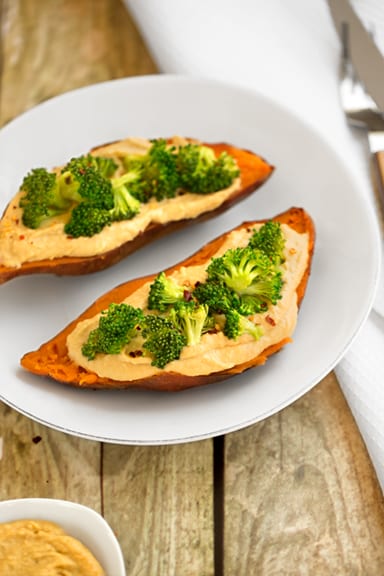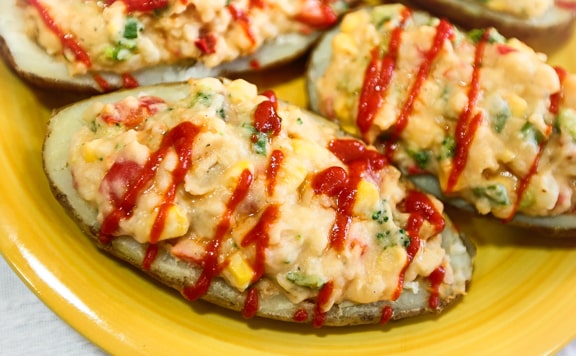 A topping for potatoes or sweet potatoes: Tangy hummus is a great foil for the flavor of potato or sweet potato. You can add other vegetables to the equation, too. Steamed broccoli tops the sweet potato variation above. Or, you can use some wilted spinach or other greens. Regular potato works with this, too (shown at top of post). Simply mix a few steamed vegetables in with the hummus. Top with salsa or drizzle with sriracha, as shown in the photo at the top of this post. Served with a simple salad or slaw, this makes a great emergency dinner.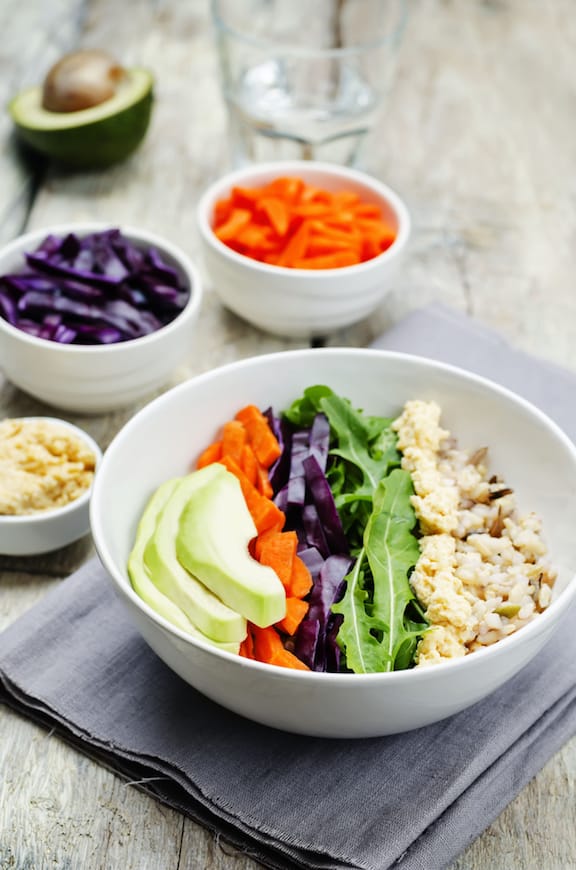 Extra protein for your vegan bowls: Bowls are all the rage as a one-dish way to serve a well-rounded meal of complex carbs, protein, and veggies (cooked and/or raw). Bowls are meant to appeal to the eye as well as the palate. Simply arrange colorful veggies on a bed of cooked grain; hummus doubles as your protein and your sauce.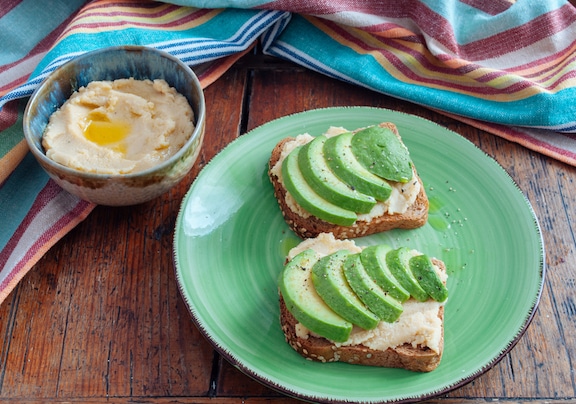 On toast: Lately, avocado toast has become a thing. This one's a bit in revers —hummus toast topped off with thick slices of avocado. Their flavor and texture are so compatible, you could say that they're made for each other!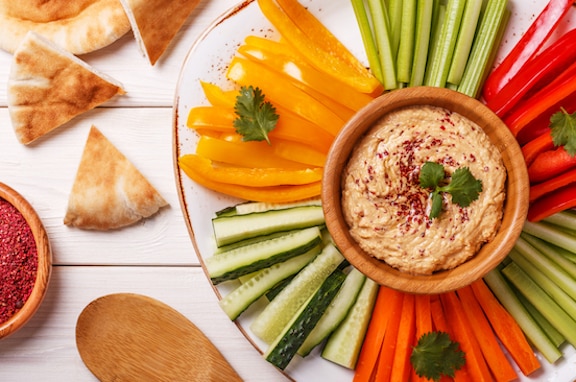 An appetizer or snack with raw veggies: Another one almost so obvious that it's a big "duh," but how many times do you forget to prepare an appetizer when company's coming? If you keep prepared hummus in the fridge, an instant appetizer that everyone loves is at the ready. Spoon it into a small bowl (and pretend you made it; I won't tell), and surround with raw vegetables and whole-grain chips or crackers. If you're really pressed for time, you can get cut fresh vegetables at the supermarket as well. And I'm not the first to say this, but hummus served as a dip works as a great incentive to get kids and picky eaters to eat their vegetables.
More from OhMyVeggies: here a few more creative ways to use hummus. We've got sandwiches covered, above, but how about using it on pizza instead of red sauce; as a topping for grilled vegetables; and thinned to make a perfect salad dressing. See these 4 (more) ways to use hummus.