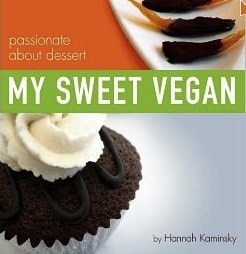 Reviewed by Gail Davis. Desserts are an indulgence I allow myself more than occasionally, and they are my one true weakness. So when I finally became the proud owner of a copy of Hannah Kaminsky's My Sweet Vegan: Passionate About Dessert*, I couldn't wait to sink my teeth into the recipes contained within its specatcular, full-color pages.
And oh, what glorious recipes they are! The fact that each and every one of the more than 75 recipes in this book is accompanied by a mouthwateringly tantalizing, drop-dead-gorgeous color photo, only increased my already excited sensibilities. I had to dive in. There was no stopping me. And with a refrigerator filled with So Delicious Coconut Nog and Greek-style Coconut Milk Yogurt (coming to stores soon!), I had to start with Hannah's recipe for Not-Nog Cupcakes.
The gooey-chewy, sweet caramel topping was the perfect companion to the lusciously moist nog cake. I don't know what these babies are like made with soy yogurt (which is all that was available at the time the book was published in 2008), but the thick, creamy coconut milk Greek yogurt gave these cupcakes incredible texture.When I got home with my copy of My Sweet Vegan, I did what I always do with a new cookbook—now don't think this is weird—I read it from cover to cover. (I usually do this at bedtime, which explains why some mornings I wake up feeling famished.) When I landed on the page for Black and White Cookies, my heart skipped a beat. These were one of my most favorite childhood treats, and I have long dreamed of a vegan version. If you have never tasted a Black and White Cookie, you are missing out on one of life's luscious little luxuries.
Chocolate and vanilla are delicious together, and if you could actually eat a whole one of these giant cookies with a bit of chocolate and a bit in vanilla in each bite, you'd be a magician, given that most of the black and most of the white are on opposite ends of the cookie! As a child vanilla-worshipper, I would eat all of the chocolate first and leave the vanilla half of the cookie for last. But for my first vegan Black and White Cookie, I ate all away around the outside of it, savoring a little chocolate, then a little vanilla, and round and round and round I happily ate my way around the whole cookie! All those years of dreaming about a Black and White Cookie. It was even better than I had remembered! Thank you, Hannah!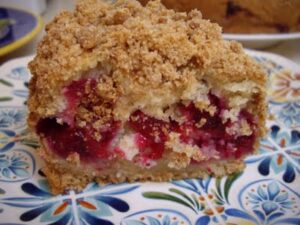 Plum-Good Crumb Cake doesn't begin to describe how good this cake is. I love a good crumb cake, and making crumbs is so much fun! Adding chopped plums made this cake even more memorable. Just look at the vibrant color! I'm still trying to wrap my brain around the fact that all of the amazing recipes in this book were created and published by Hannah at the tender age of eighteen. I can only imagine the future accomplishments and extraordinary life this brilliant young woman has before her!
A further sampling of what you'll find in this spectacular book are such yumminess as Green Tea Tiramisu, Coconut Custard Pie, Dried Fruit Focaccia, Golden Glazed Donuts, Orange-Hazelnut Biscotti, and Whoopie Pies. There's even a Canine Cake recipe you can make (and share with) your dog!
If you haven't visited Hannah's blog, Bittersweet, head on over for some eye-poppingly amazing photos, delicious recipes, and all kinds of great vegan inspiration. Oh, and Hannah's second book, the aptly titled, Vegan Desserts: Sumptuous Sweets for Every Season is filled with even more heavenly delights like: Roasted Apricot Ice Cream, No-Bake Pumpkin Crème Brulee, Chai Poached Pears, and Golden Saffron Pound Cake! It sounds like she's outdone herself in My Sweet Vegan,* which is at the top of my holiday wish list! (Hint, hint!)
Here are a few recipes for delectable desserts Hannah Kaminsky has contributed to VegKitchen:
Gail Davis is the author of So Now What Do I Eat? The Complete Guide to Vegetarian Convenience Foods, Vegetarian Food for Thought,* and scores of magazine and newspaper articles on healthy living. She is also a speaker, nutritional consultant, and personal food coach, and has taught thousands of eager epicureans how to incorporate vegan cuisine into their lifestyle. She shares her favorite products, books, and recipes on her blog, Hungry Vegan. 
*This post contains affiliate links. If the product is purchased by linking through this review, VegKitchen receives a modest commission, which helps maintain our site and helps it to continue growing!