Living Juices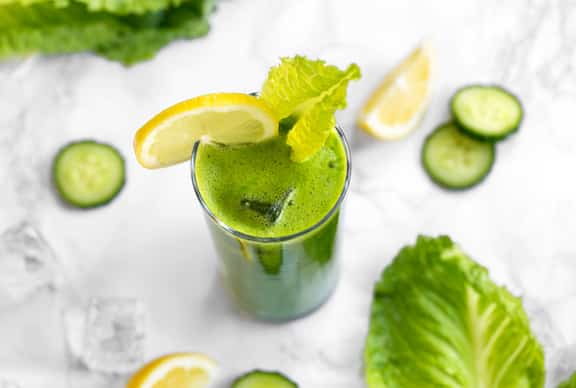 A trio of cleansing veggies—cucumber, lettuce, and sprouts—result in a great green lemonade.This blended juice is incredibly refreshing on a hot summer day, but can be used year-round as a tonic, especially on a day when you feel you've eaten too much. Try some of the variations suggested, or alter it to suit your taste. Photos by Hannah Kaminsky. more→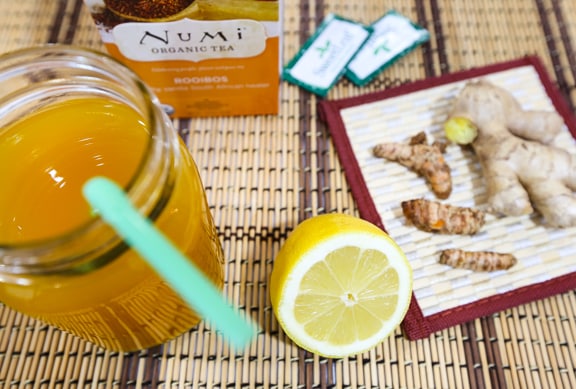 Here on VegKitchen, reader come in droves for our posts on ginger-lemon tea, rooibos tea, and apple cider vinegar. These teas, infusions, and tonics are awesome in and of themselves, and if you're anything like me, you want all of them as part of your regimen!
But how many beverages can a person squeeze into one day added to all the plain water we're supposed to drink? My solution was to invent the "one tonic," which combines all of these amazing ingredients in one bracing beverage. And this combo of ginger, lemon, turmeric, rooibos tea, and apple cider vinegar is indeed bracing! If you like these flavors separately, you'll love them together. more→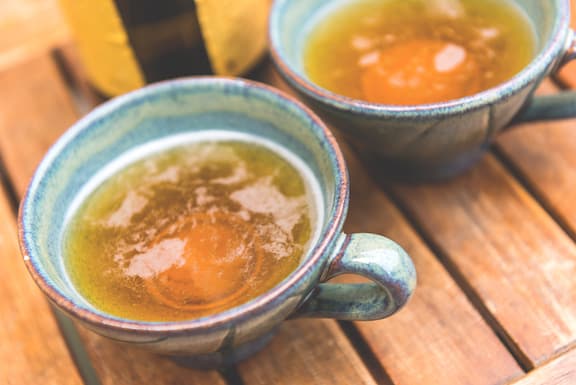 This bracing apple cider ginger ale beverage has lots of good things in it — ginger, apple cider vinegar, and lemon juice. This just might become your go-to tonic! You can drink it straight, without the seltzer, if you don't want the fizz. And you can warm it gently (don't boil) if you want to drink it hot. Make sure to see the variations below the recipe box.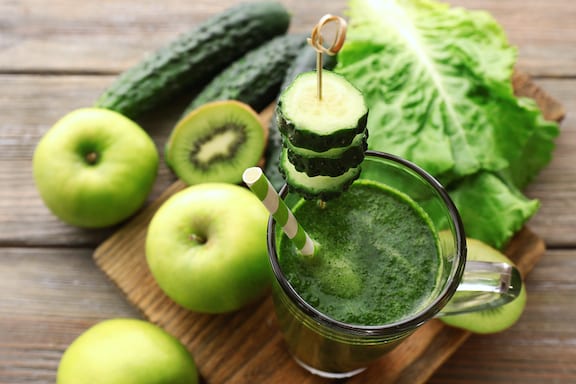 Contributed by Garrick Dee Tan, from Juicing with G. Juicing can be very beneficial to your health when done right. But when done wrong, the results can have the opposite effect from what you want to achieve. Instead of losing weight, you can gain weight, and in some cases it can be life threatening (I'll explain this in a bit). So before you drop that first celery into a juicer, read this article carefully so that you maximize every ounce of juice you drink and don't waste money on stuff you don't need.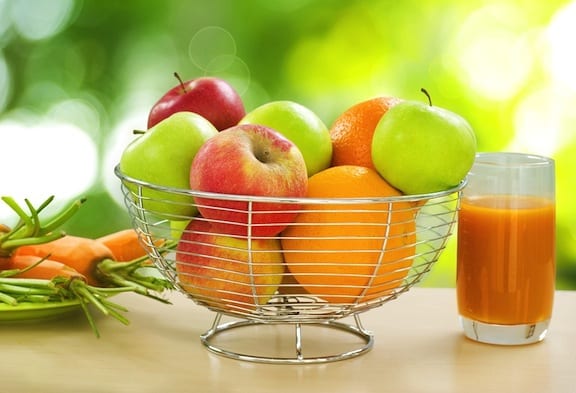 A classic combination, juicing fresh carrots, apples, and oranges will give you a great boost of energy and nutrition.  more→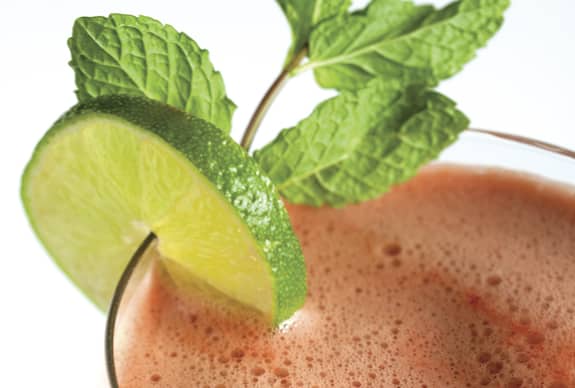 The popular duo of watermelon and cucumber is perfect for rehydrating on a hot summer day. High in water and electrolytes, this juice balances the fluid levels in your body and keeps you cool . . . as a cucumber. From Skinny Juices by Danielle Omar, MS, RD. Reprinted with permission from Da Capo Lifelong, © 2014.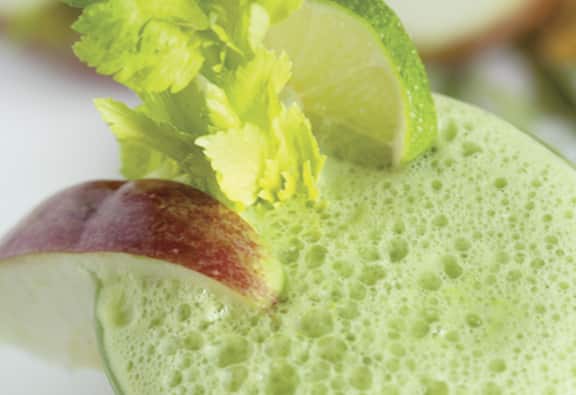 Grapes are wonderful full-body cleansers. They're packed with vitamins A, C, and folate. They also contain potassium and magnesium, which naturally reduce blood pressure, and resveratrol, a potent antioxidant and anti-ager. From Skinny Juices by Danielle Omar, MS, RD. Reprinted with permission from Da Capo Lifelong, © 2014 more→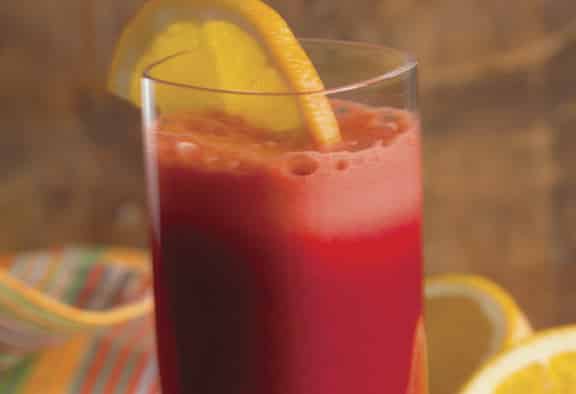 This healthy and delicious take on ginger ale will help heal the digestive tract and support liver function, as it warms your body from the inside out. From Skinny Juices by Danielle Omar, MS, RD. Reprinted with permission from Da Capo Lifelong, © 2014. more→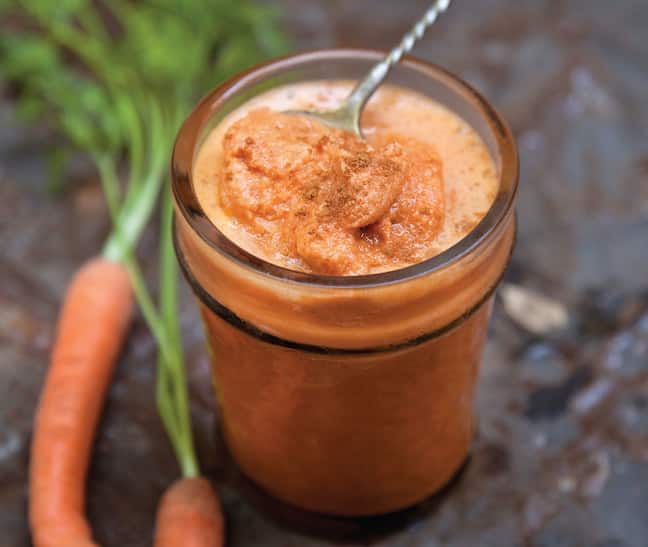 I think this juice tastes a little bit like a toasted marshmallow. It's a mellow combination of nutritious carrots, energizing maca powder, and tasty cashews. Reprinted with permission from Superfood Juices: 100 Delicious, Energizing & Nutrient-Dense Recipes* © 2014 by Julie Morris, Sterling Publishing Co., Inc. Photography by Julie Morris and Oliver Barth.
You can experiment to your heart's delight with thousands of taste combinations! If you don't have a juicer, consider investing in one. Juicing allows you to consume the nutrients form a huge amount of raw produce without the digestive distress of consuming so much fiber. Although fiber is great, a balanced vegan diet provides a healthy amount, so don't worry about missing any in fresh juices. Contributed by Alexandra Jamieson, from Vegan Cooking for Dummies.* more→
To really make this a chlorophyll-rich drink, add spirulina, available at most health food stores. Spirulina has many special benefits including reducing the risk of cancer. Recipe from Warming Up to Living Foods* by Elysa Markowitz.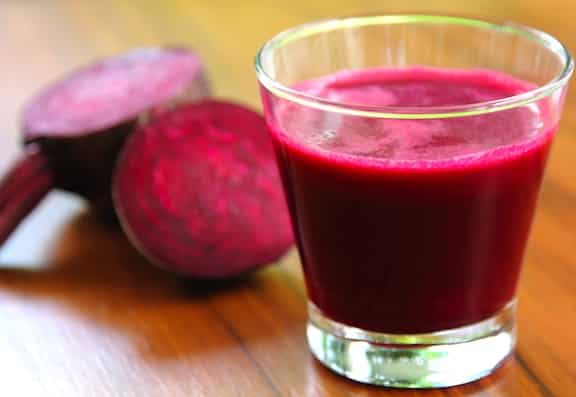 Juices are absorbed so quickly by our systems. The best way to savor a juice is to "chew" it first in your mouth to activate the salivary process of digestion. On an empty stomach, juices absorb through the stomach lining, taking much less energy to digest. Beets and their greens are a great liver cleanser, and lemon juice stimulates the liver to make enzymes. Recipe from  Warming Up to Living Foods* by Elysa Markowitz.