Vegan Cheese-y Delights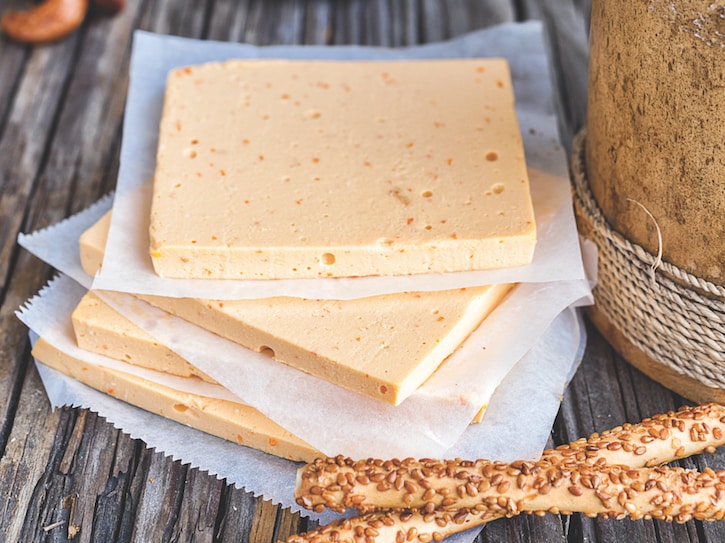 The same classic American cheese taste you grew up with: mild, firm, and satisfying. These creamy golden-hued vegan American cheese slices are perfect sliced on sandwiches and crackers. Recipe and photo from Vegan Cheese: Simple, Delicious Plant-Based Recipes by Jules Aron, ©2017 by Countryman Press, reprinted by permission. more→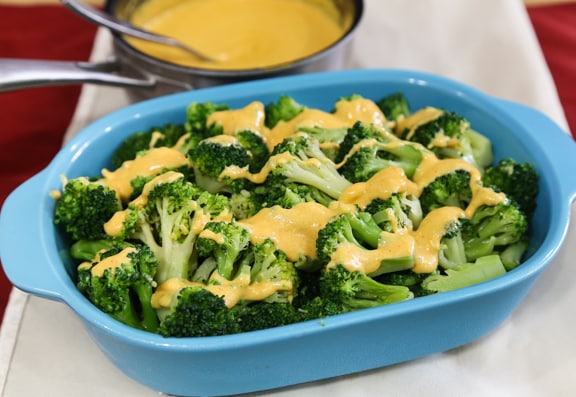 This luscious vegan cheez-y sauce makes vegetables (broccoli, cauliflower, green beans, brussels sprouts) more appealing to the finicky, but even veggie lovers will enjoy this cheesy treat. This makes about 2 cups. Photos by Evan Atlas.
more→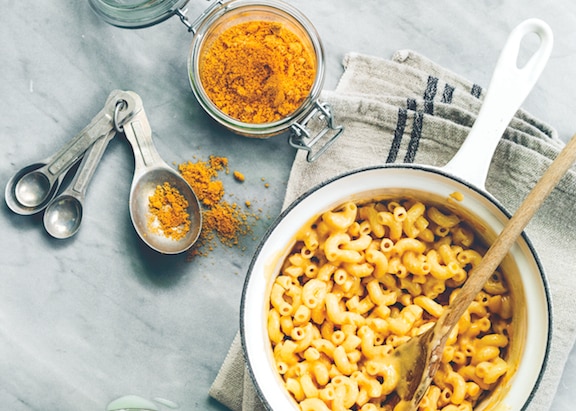 Unless you were raised by macrobiotic hippies, you've had it. I've had it. And there's no shame in saying it— we've all had macaroni and cheese out of the box. My kids would plead with me to buy it, and I was thrilled when the vegan stuff came on the market. Maybe you don't crave it anymore, but it sure is convenient to have some on hand for the kids or the babysitter. But there's no need to buy it, because you can make the instant cheese sauce mix yourself in just a few minutes! It makes enough to coat the equivalent of 5 store-bought boxes instant macaroni and cheese.Reprinted by permission from The Homemade Vegan Pantry* by Miyoko Schinner, © 2015. Photographs by Eva Kolenko, © 2015 Published by Ten Speed Press, an imprint of Penguin Random House LLC. more→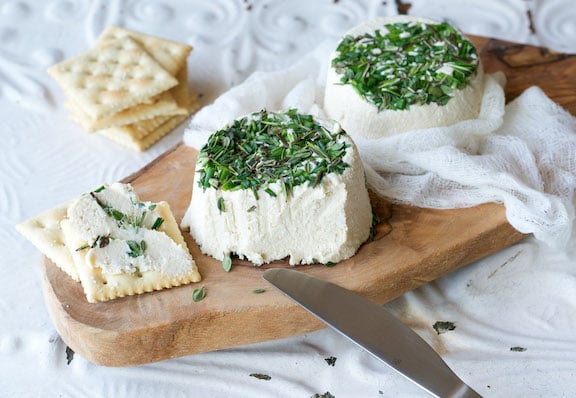 Diana, blogger at Veggie Next Door, and one of my recipe testers, warns that this might not be the best snack for a party setting since one is guaranteed to have garlic-breath, but I couldn't resist trying to make a favorite pre-vegan appetizer of mine — Boursin® cheese. Recipe and photo by Ann Oliverio, from Crave, Eat, Heal: Plant-Based Whole Food Recipes to Satisfy Every Appetite* reprinted with permission © 2015 Front Table Books. more→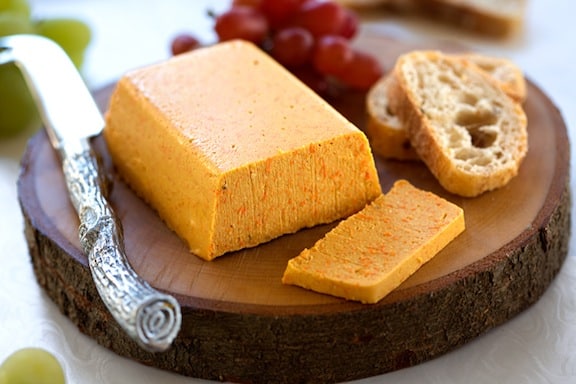 There's no dairy in these vegan cheese recipes, but even your dairy-eating friends will be amazed by them! A good vegan cheese seems impossible, but certain ingredients lend a cheesy flavor. One of my favorites is nutritional yeast. It tastes good, and it's good for you. Cashews, which are delicious just plain by the handful, create a magical texture that is reminiscent of goat cheese. Make sure to scroll to the end to see each one of these 8 vegan cheeses, all of which will knock your socks off!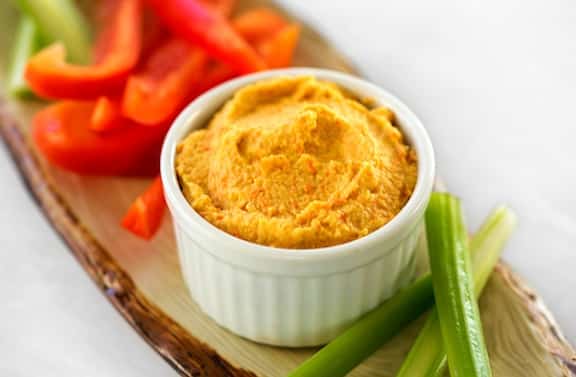 You can make this vegan cheese-y appetizer as a spread in no time, or let it set up into slices. I like it both ways and hope that you will, too. This is good with sliced fresh baguette, or serve it with whole-grain or gluten-free crackers or crispbreads. It's also quite nice served with chunks of red bell pepper and peeled celery cut into short sections. Grapes served in small bunches on the side add a nice flavor balance. Recipe adapted from Vegan Holiday Kitchen by Nava Atlas. Photos by Hannah Kaminsky. more→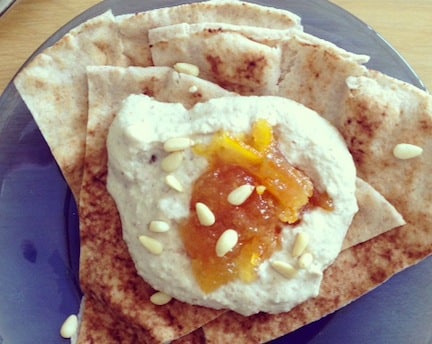 Here's something a little creamy, a little sweet, and easy to pair with nearly anything. Behold, shockingly simple, pretty, sumptuous sweet vegan ricotta. This spread pairs beautifully when slathered on crackers or toast, crowns fruit in a gorgeous way, adds oomph to baking recipes, and is a creamy, dreamy topping for oatmeal and granola. I like mine nestled between french toast and marmalade. more→
This cashew-based dairy-free vegan cheese-y sauce is quick,easy, and rich-tasting. Make your own vegan cheese, yogurt, mayo and margarine! Cheaper and much tastier than store-bought, this e-book brings you the best 12 recipes for dairy alternatives from The Recipe Renovator blog. Complete with an ingredient list, quick recipes, and a more complex artisan vegan cheese, this will get you started making your own cheese and dairy substitutes today. Whether you are a vegan for ethical reasons, have gone plant-based for health reasons, are lactose-intolerant, or just want to eat fewer animal products, this book will give you everything you need to create your own "dairy case" at home. Recipe and photo from Twelve Terrific Dairy Substitutes: Vegan and Gluten-Free by Stephanie Weaver, © 2013. Used with permission. more→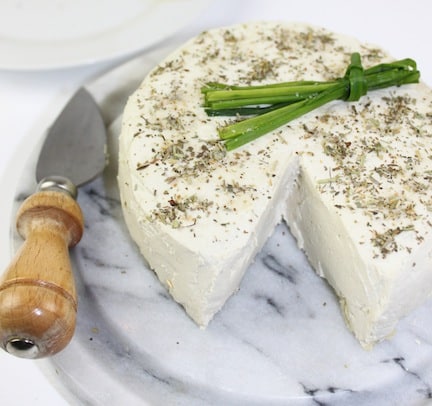 Some vegetarians find it difficult to give up cheese even though some know it's not the best food to consume. Cheese is very high in calories and fat. To that, add sodium and cholesterol. Cheese may taste good, but like all animal products, there is no reason to eat it when you have healthy alternatives. Basic raw cheeses may contain nuts, probiotics, or rejuvelac for curing, lemon, salt, nutritional yeast, and some Irish moss for thickening. You can add a variety of herbs to enhance the flavor. Recipe and photo contributed by Mimi Kirk, from Live Raw: Raw Food Recipes for Good Health and Timeless Beauty (Skyhorse Publishing, 2011). Photo by Mike Mendell.
more→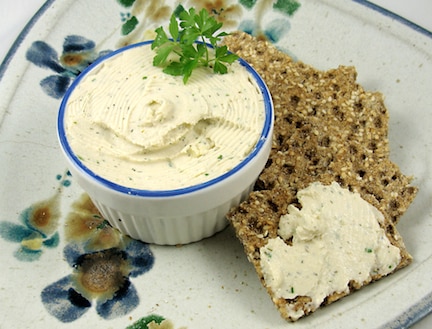 This creamy vegan cheese spread is absolutely addictive and delicious on your favorite crackers, rye crisp, or crusty bread. Recipe from World Vegan Feast* (©2011, Vegan Heritage Press) by Bryanna Clark Grogan.
This lovely round of creamy cheez is delectable by itself. It's also delicious on crackers or in sandwiches and is especially elegant as a snack or dessert served with fresh, crisp fruit, such as Asian pears. This versatile uncheese also makes a terrific pizza topping. Slice it thinly or thickly into wedges.  Recipe contributed by Jo Stepaniak, reprinted from The Ultimate Uncheese Cookbook.*
more→
This impressive, dome-shaped cheez has a creamy texture and lovely golden color. Slice it into wedges for a delectable snack or appetizer. Recipe contributed by Jo Stepaniak, reprinted from The Ultimate Uncheese Cookbook.* more→