There's just something about salads that — there's no other way to say it — many kids don't particularly enjoy. I found that combining small amounts of raw vegetables with starchy comfort foods like pasta, bread, or potatoes, or adding fresh or dried fruit, helped to entice my kids and their friends to give salads a try. As far as tossed green salads, the best way I found to entice them was to offer a very simple homemade Thousand Island dressing with it.
Unfortunately, lots of kids and teens who want to be vegetarian or vegan claim that they don't like vegetables. It's our job to gently and persistently help them overcome that aversion. If your kids aren't receptive to salads at any given time, let it go and revisit from time to time. And in the interim, keep serving platters of raw veggies and dip—something lots of kids like—and plenty of fresh fruit.
Other salads that may tempt older kids:
Macaroni Salad with Vegetable Confetti
A mild and simple macaroni salad, this is reminiscent of the kind sold at deli counters, but with more going for it. This simple pasta salad goes well with many types of bean and vegetable dishes, and is good for school lunch as a change-of-pace from sandwiches. See the photo at top, for which we used Tolerant's gluten-free organic green lentil pasta, just one of several such high-protein, legume-based pastas. Adapted from The Vegetarian Family Cookbook.
Serves: 6 or more
8 ounces elbow macaroni (or your favorite short chunky shape)
½  red bell pepper, finely diced
½ cup frozen green peas, thawed
½ cup cooked fresh or frozen corn kernels, thawed
1 medium carrot, finely diced
½ cup vegan mayonnaise
1 teaspoon prepared mustard
1 to 2 teaspoons pickle relish, optional
Salt to taste
Cook the in plenty of steadily boiling water until al dente, then drain. Rinse under cool water, then drain again and transfer to a serving container.
Combine half of the vegetables with the cooked pasta. Add the mayonnaise and mustard and stir together.
Season gently with salt, then scatter the remaining vegetables over the top. Serve at once or cover and refrigerate until needed.
Variation: You can substitute the veggies listed above with others that your kids might enjoy, such as green beans, broccoli, summer squash, etc., so long as they are cut into very small pieces.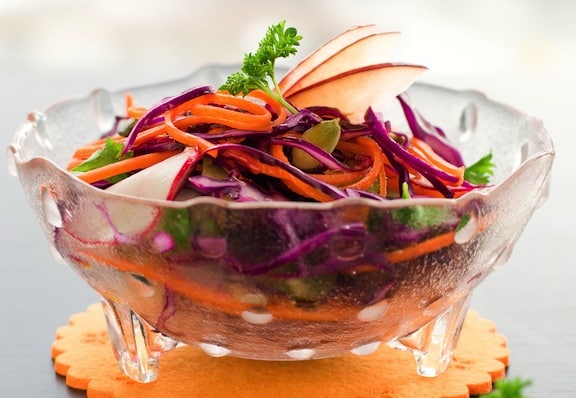 Fruited Red Cabbage Salad
Adding sweet elements to raw vegetables can be a good way to entice kids to give salads a try. Adults will like this one, too—it provides a nice flavor contrast to spicy dishes.
Serves: 4 to 6
2 cups red cabbage, thinly shredded
1 medium sweet crisp apple, thinly sliced
1 large stalk celery or bok choy, thinly sliced
¼ cup raisins
2 teaspoons sesame seeds
1 teaspoon dark sesame oil
1 tablespoon agave nectar or maple syrup
1 tablespoon lemon juice, or to taste
Combine all the ingredients in a serving bowl and mix well. Let the salad stand for 15 to 20 minutes before serving to allow the flavors to mingle.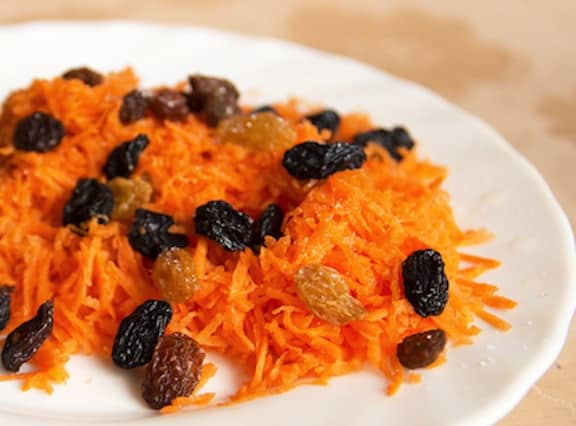 Classic Carrot-Raisin Salad
Here's a simple salad that might just be the first your kids will enjoy. A food processor is a must for preparing this salad quickly. See photo at the top of the page.
Serves: 4 to 6
8 ounces carrots, peeled (or use baby carrots)
⅔ cup raisins
1 tablespoon lemon juice, or more, to taste
1 tablespoon agave nectar
¼ cup vegan mayonnaise or

Cashew Cream

Generous pinch of ground cinnamon
Grate the carrots in a food processor, then transfer to a serving bowl. Add the remaining ingredients, and mix together thoroughly.
Let the salad stand at room temperature for 20 to 30 minutes, then serve.
Variation: Use raw sweet potato in place of the carrots. Yes, sweet potato is delicious raw!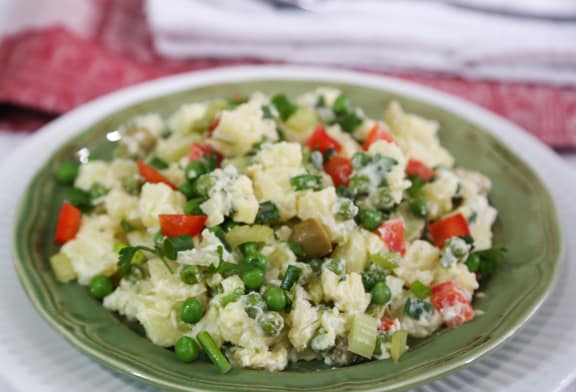 Creamy and Colorful Potato Salad
A creamy potato salad dotted with colorful veggies might be just the thing to tempt budding salad eaters.
Serves: 4
3 medium-large red-skinned or golden potatoes
⅓ cup vegan mayonnaise, or more, as desired
1 teaspoon yellow mustard
1 tablespoons apple cider vinegar
½ red bell pepper, finely diced
½ cup thawed frozen green peas, steamed
¼ cup green pimiento olives, whole or chopped
Salt and freshly ground pepper to taste
If you'd like to keep the skins on the potatoes, scrub them well. Microwave or bake the potatoes in their skins until done but still firm. Let the potatoes cool to room temperature.
If you prefer to use peeled potatoes in the salad, slip their skins off when they're cool enough to handle. Dice the potatoes into approximately ¾-inch chunks, and place them in a serving container.
Add  the remaining ingredients and mix gently but thoroughly. Serve at once or cover and refrigerate until needed.
Variation: Substitute a sweet potato for one or two of the regular potatoes.