Spring is here and it's that time of year when you just want to jump into everything that's fresh and green. So what better way to celebrate the season of renewal and rebirth than with some new healthy, green veggie sandwich recipes. Of course, with all the fun things to do now that the snow is finally gone, who wants to stay inside cooking.
That's why these easy veggie sandwich recipes are so great for this time of year. They're easy. They're delicious. And they will help you start off the season with a fresh new diet. What could be better than that?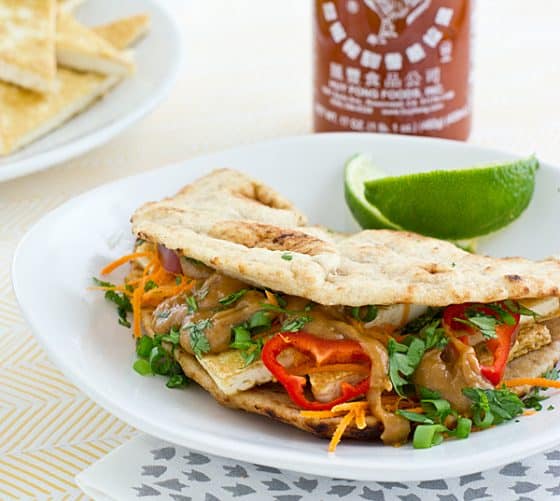 This delicious veggie sandwich is a really cool adaptation of a bold Thai taste into something you can eat with your hands.
It takes the crispy texture of tofu and combines it with the tangy, sweet taste of ginger peanut sauce and finally throws in some spicy red peppers for a tantalizing twinge of heat. And as if that wasn't enough, the veggie strings and crisp onion greens add a satisfying crunch to the soft pita bread.
Definitely worth a try this spring. And give it a squirt of lime juice while you're at it to really bring it all together.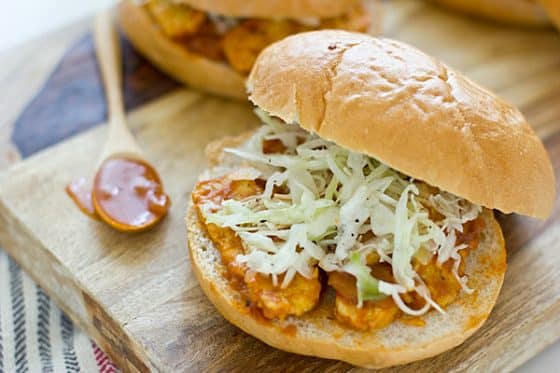 Here's a question for you: "Have you ever tried tempeh?"
If the answer was anything but "yes," then that's something you need to fix right now. The soybean cakes are an Indonesian staple that is a delicious vegan food that can serve in just about any recipe.
Luckily for you, my friends, this BBQ veggie sandwich recipe is a great way to try it out.
And it's so easy (and so cheap) to make. Just take the tempeh, marinate it in some BBQ sauce, fry it up and slap it between some fresh bread with sliced cabbage.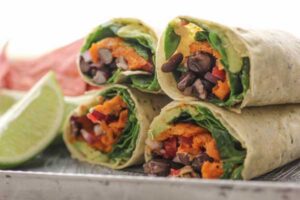 Mexican food is one of every vegan's favorites because it's so easy to just sub the meat out of it. And these veggie wraps show how true that is.
And this veggie sandwich recipe combines some really creative ingredients like roasted sweet potato rounds and avocado for a delicious veggie lunch. All you have to do is put them in a tortilla and wrap them up.
Easy to make and satisfying. What else can you ask for in a veggie sandwich?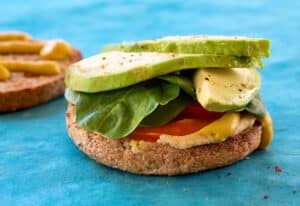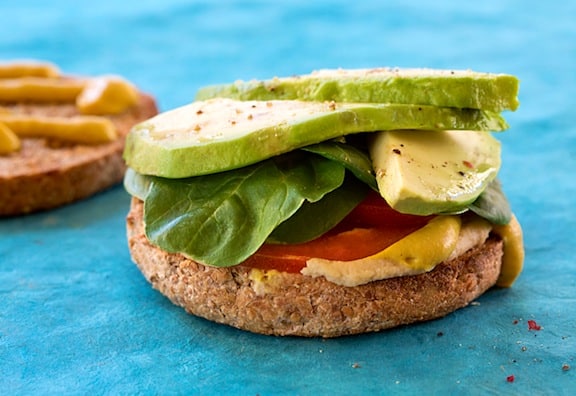 If you're looking for a fresh, spring taste, then look no further. Because this veggie sandwich has a clean, crisp flavor that screams spring.
It combines fresh hummus with slices of smooth avocado and a crispy piece of tomato. Together they make for a perfect lunch or healthy snack.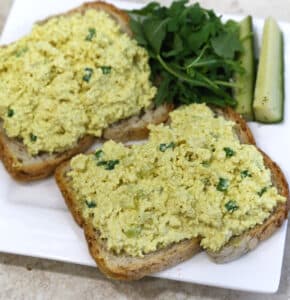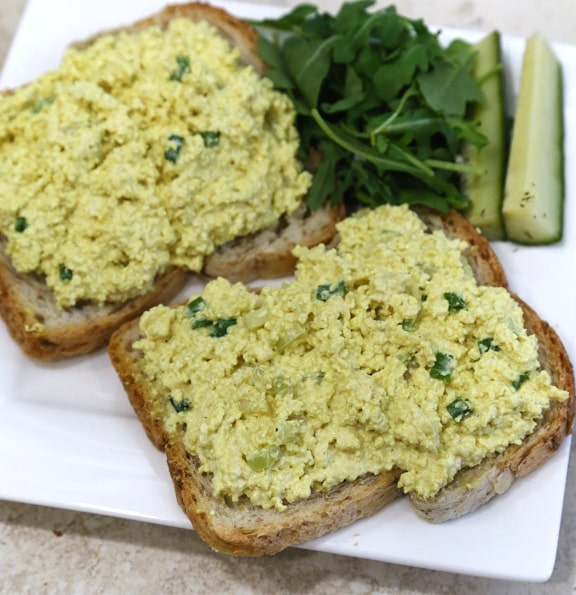 Vegan "imitation" recipes aren't always that good, but this imitation egg salad is actually a pretty good substitute for the real thing.
Not only is the texture dead on, but it has that hearty, slightly tart taste that you think of when you imagine egg salad. That, and the fact that it's super easy to whip up, makes this a great vegan version of one of your favorite comfort foods.
It's perfect for those rainy spring days when served along with with a bowl of steaming tomato soup.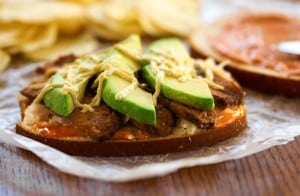 Once again, tempeh is the star in this vegan-ized Reuben sandwich. But it really serves as the kind of hearty base that lets the other flavors in this veggie sandwich shine through.
Because on top of that salty, savory tempeh is the light, creamy taste of avocado and the slightly sweet, slightly bitter mingling of sauerkraut and thousand island dressing.
It's surprisingly complex for such an easy-to-make recipe. And it's heavy enough to fill in for a filling lunch or dinner after a day of enjoying the spring weather.

The thing I like most about this veggie sandwich (besides how easy it is to make) is the clean, crisp taste of the arugula with the dark undertones of olives.
And combined with the hearty taste of the baked tofu it's surprisingly filling. It's definitely worth putting together for a good lunch or even an easy family dinner (assuming no-one is picky about olives).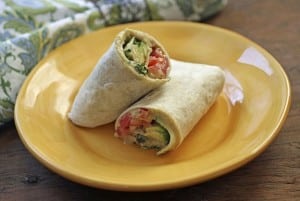 This is another one of those veggie sandwich recipes where the textures really play off each other in a really unique way.
The creamy elements of the hummus and the avocado combine with the crisp textures of the cucumber and tomato for a really unusual and pleasing wrap. It's perfect for a healthy lunch in the park after a spring bike ride.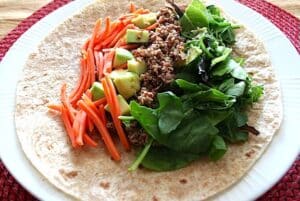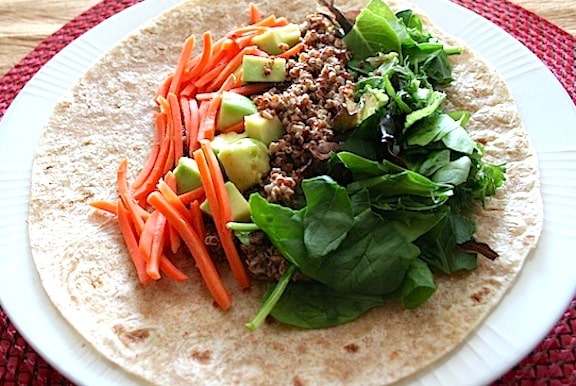 These vegan wraps are one of those rare things in life that is both incredibly delicious and really good for you.
It's loaded with superfoods like quinoa, spinach, and avocado. And it packs a spicy Asian-inspired taste. So if you're looking for an easy way to get the raw nutrients your body needs to heal after flu season you really can't ask for a better way than this. It's one of the best veggie sandwich recipes to help you take charge of your health.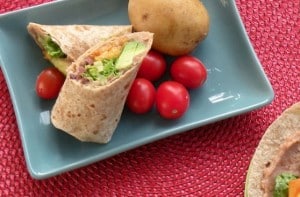 These veggie wraps are a great companion to a warm bowl of soup on those chilly early-spring days.
They're easy to make and have a delicious earthy flavor that makes you think of a healthy taco. Combine them with some south-western inspired soups for a great easy meal.