Contributed by Allyson Kramer of Manifest Vegan. Vegan for the Holidays: Celebration Feasts for Thanksgiving through New Year's Day by Zel Allen is a welcome addition to the array of books available these days on eating your way through holidays on a plant based diet. Published by Book Publishing Company, this title boasts a ton of recipes that are elevated beyond standard daily fare.
In this book, Zel Allen shows you not only how to replace your favorite animal laden goodies you desperately crave during the holiday months, but how to do so in style while still using mostly whole food ingredients. I am delighted with the vast assortment of vegan friendly holiday eats and the lovely colorful photography that illustrates the book.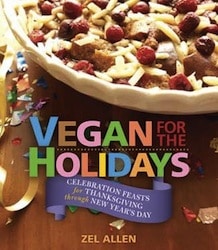 The book begins with a chapter on Thanksgiving, which includes a ton of recipes, each one sounding more scrumptious than the last. From Garlicky Chestnut Butter to Pistachio and Sweet Pea Torte with Roasted-Tomato Aioli, and Apples 'n' Cream Pie, this chapter takes the guesswork out of impressing your guests. It includes a few recipes for Main Courses and a ton of recipes for satisfying sides… which, for me, has always been the most important part of Thanksgiving. That and giving thanks, of course!
The next chapter recognizes Christmas with recipes such as Tangy Cranberry Soup, Shiitake tornadoes in Cashew-Cream Sauce, and Pumpkin Pine Nut Cookies. I love how each recipe features ingredients that are appropriate for the season and practically a celebration of winter in and of themselves.
And the following chapter as Hanukkah, which is my favorite chapter of the book. It has a ton of wonderful recipes recreated to be vegan friendly—most of them conforting to the core. Borsct, Cholent, Ghoulash, Cabbage Rolls, they are all in here, recreated in inventive and refreshing ways. My favorite out of the chapter, though, is the decadent Pear and Walnut Compote with Choco-Wafers, which is as beautiful and healthful as it is delicious.
Next Zel touches on Kwanzaa, with a good amount of recipes that reflect African American culture that are perfect for celebration.  I do wish some of the recipes were as "gourmet"—embellished with a few extra touches like many of the other chapters' recipes- but all in all the recipes are traditional and just as tempting as the dishes throughout the rest of the book.
Finally the book includes a chapter for New Year's which focuses mainly on quick and easy, yet satisfying, party foods and small bites which can be enjoyed throughout the day, as well as drinks to keep everyone merry. Spiced Cranberry Nog, Brandied Holiday Nog, and Happy New Year Glögg are a few of the libations you'll find gracing these pages.
Vegan For The Holidays has a no-nonsense approach to simple and sturdy recipes, suitable for plant eaters and impressive enough for omnivores. It goes beyond festive and includes a ton of holiday inspired recipes that show you how to create a very special feast. Zel's passion for entertaining and holiday cooking will help transform your next vegan get-together into a celebration to remember.
See VegKitchen's review of Zel Allen's previous book, The Nut Gourmet.
Explore Zel Allen's recipes from Vegan from the Holidays and The Nut Gourmet here on VegKitchen.
Read more of VegKitchen's book reviews.
Zel Allen, along with her husband, Reuben, run the popular monthly 'zine Vegetarians in Paradise.