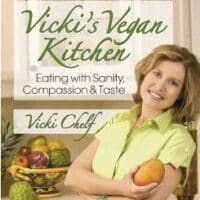 Vicki's Vegan Kitchen* is the latest book by Vicki Chelf. Few people are a better walking advertisement for the plant-based lifestyle than this vibrant and creative woman, who is a talented artist in addition to being a wonderful food writer.This book is a useful compendium of kitchen basics as well as new skills to learn (growing microgreens; sprouting; filling your lunchbox; composting; instructions on how to make the perfect loaf of bread; making nut butters; homemade pasta; and lots more) in addition to 375 recipes ranging from everyday to celebratory, but nothing overly complicated.
Everyday meals, smoothies; snacks, salads, sauces, stews, and much more are included in this book, which can easily be a go-to book for busy yet conscientious vegan and vegetarian households.
Vicki's mastery of the vegan kitchen repertoire is conveyed in the same warm and friendly way that made her best-known earlier book, Cooking with the Right Side of the Brain* such a classic. Learn more about Vicki's Vegan Kitchen: Eating with Sanity, Compassion & Taste.*
Here are a pair of recipes from Vicki's Vegan Kitchen:* 
And Vicki's informative piece on Preserving Garlic is one of the most widely visited article on VegKitchen!
*This post contains affiliate links. If the product is purchased by linking through this review, VegKitchen receives a modest commission, which helps maintain our site and helps it to continue growing!