Everyone needs a good chickpea salad recipe in their repertoire! Here are VegKitchen's favorite chickpea salads and spreads. They're quick, tasty, high in protein, and so easy to make. Chickpea and Kale Sandwich Spread or Salad (shown above) makes a great spread for bread, a filling for pita bread or a wrap (along with some tender lettuce and sliced tomatoes), or layered scoop of it on a sturdy flatbread and served open-face.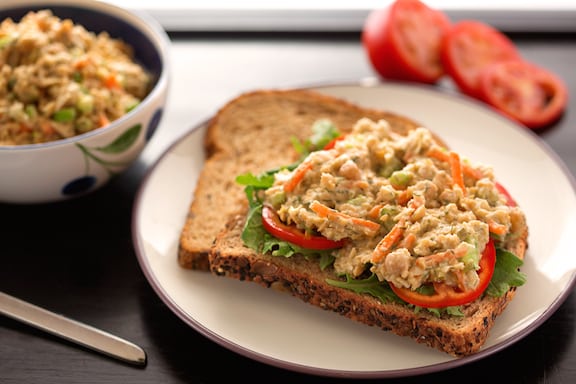 Sharon's Chickpea Salad or Sandwich Spread is super easy and completely delicious; it takes only about 15 minutes to make, and there are so many ways to serve it — as a sandwich, appetizer, or dolloped into a lettuce leaf.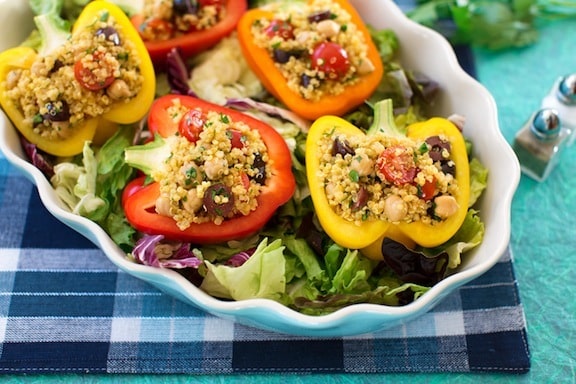 These appealing Chickpea and Quinoa Salad in Sweet Pepper Boats are filling enough to serve as a main dish for any festive meal. Perfectly portable, too, they make a wonderful picnic entree or a change of pace from sandwiches for a hearty lunch.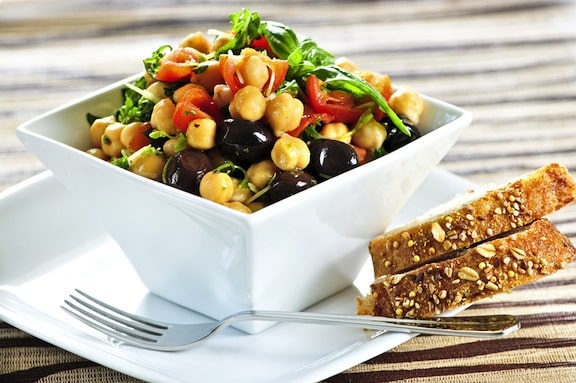 Chickpea Salad with Tomatoes and Basil makes an easy, good lunch on its own with some whole grain bread and fresh fruit. It's a great companion to many Italian-style pasta dishes or simple grain dishes during the cooler months, especially if the meal needs a protein boost.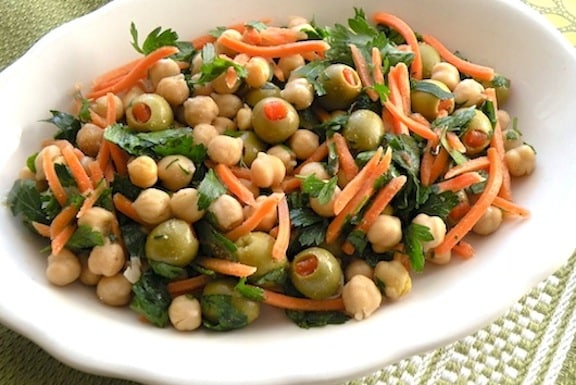 Chickpea and Carrot Salad with Parsley and Olives is an adaptation of a traditional Middle Eastern salad has a great combination of flavors and textures. I especially like it with Middle Eastern- or Spanish-themed meals; though it can be a nice foil for any mild-flavored dish.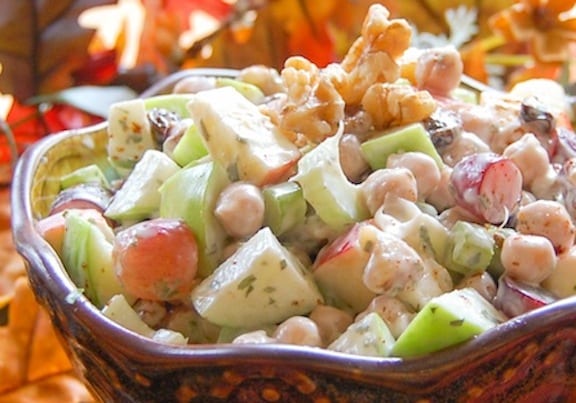 A Waldorf salad is a salad traditionally made of fresh apples, celery and walnuts, tossed with mayonnaise, and usually served on a bed of lettuce as an appetizer or a light meal. In this Chickpea Waldorf Salad the addition of chickpeas, tart cranberries, and a seasoned mayonnaise make it even more delectable.