Whether you're in the dog days of summer or in the midst of a heat wave lingering into September, a frozen treat is always welcome.
You don't need any kind of special machine to make these all-natural, delicious vegan ice creams and ice pops, most made with fresh fruit and all made with other wholesome ingredients.
Some of these do require popsicle molds, which are inexpensive. I have this cheap set from Amazon.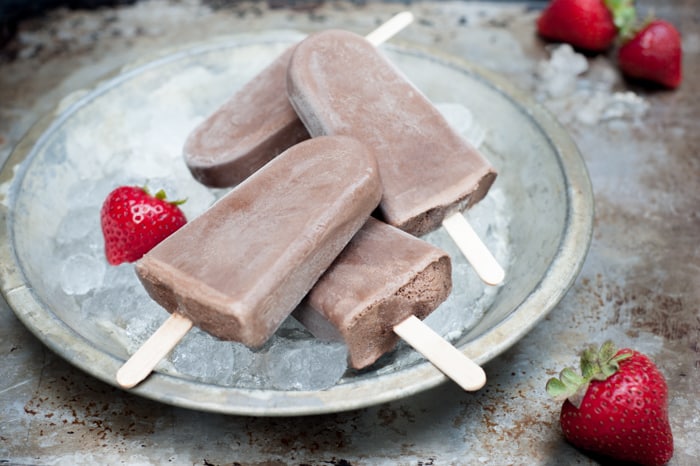 Let's start with Leslie Cerier's Cocoa Cashew Coconut Ice Pops. The perfect summer popsicle for kids of all ages, these feature cashews, coconut milk, and cocoa.
Chocolate Banana Frozen Soft Serve is another chocolate-y treat. Your taste buds won't believe that this frozen treat is made almost purely of banana. The velvety texture and mild chocolate flavor will have you hooked. Freezing bananas that are getting almost too ripe is perfect for making treats like this, or for using in smoothies.
Creamy Pineapple Crush with a dusting of shredded coconut and cacao nibs satisfies any sweet tooth … without the fat and processed sugar. Three basic ingredients, all pure foods, whipped up into a creamy frozen dessert that couldn't be easier to make.
Mint Chocolate-Chip Ice Cream is so delicious, it's hard to believe that it's made from bananas and avocados. Avocados power up the nutrition in this dessert and gives it that beautiful green hue. Add a few drops of mint extract, chocolate chips and enjoy!
Fresh Mango or Nectarine and Blueberry Ice Pops prove that all you need are ice pop molds and fresh summer fruits to create easy, refreshing, and healthy frozen treats. Make sure your fruit is lush and ripe or these won't have optimal flavor.
Crazy Carrot Pops are ice pops made from real fruits and veggies — lots of fun for kids to eat, and reassuring for parents to know they're giving their children a wholesome treat.
To make Vegan Banana Ice Cream, frozen bananas blend up and become just like soft-serve ice cream. Use a food processor, not a blender for this. Depending on the size of the food processor, you may have to make this in two batches.
You'll be surprised at how quick Blackberry Watermelon Popsicles are to make, and how delicious the outcome is. You can can also vary these these with any kind of fruit you can blend!
Hope you found something to make your summer a little bit sweeter. For more ideas, check out all of our vegan ice cream recipes or other delicious vegan desserts.