Getting tofu to taste great is simple when you have just the right recipes and tips. Here are easy tofu recipes for kids that the whole family will love. And if you're ready for tofu to become a staple in your repertoire, explore our category Tofu Recipes: Easy and Versatile for lots more ideas.
Parents always welcome new options for healthy eating, and tofu is a superb food to add to the repertoire of growing children. It's high in easily digestible protein, low in fat, and is a good source of calcium, iron, and B vitamins.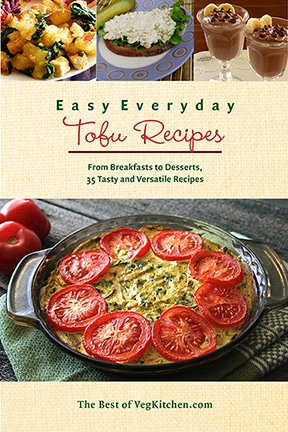 If you'd like an easy resource for family-friendly tofu recipes, you might enjoy Easy Everyday Tofu Recipes, the first in pdf e-book series, The Best of VegKitchen. Featuring 35 or so recipes that have proven most popular on the site, these well-priced, compact e-books let you to delve into specific food niches without poring through lots of web sites. If you're a tofu fan you'll love having a focused array of recipes right at hand. To learn more, go to Easy Everyday Tofu Recipes. More resources: The Vegetarian Family Cookbook and The Vegetarian 5-Ingredient Gourmet, from which the recipes in this article were adapted.
Here's a brief lexicon of common tofu varieties:
Silken tofu: Available in 14- to 16-ounce tubs or 12.3 ounce aseptic packages, this type of tofu is very soft and smooth. It's great pureed and used as a base for soups (Creamy Corn Chowder, following), dips, and sauces (Macaroni and Cheese With Secret Silken Tofu Sauce, following). It also makes an ideal dessert puddings or pie filling (Tofu Chocolate Pudding, following). This may be the best type of tofu to use when you need to sneak it into your child's meal!
Soft tofu: This comes in 14- to 16-ounce tubs and is good for using crumbled, as in scrambled tofu, eggless "egg salad" or patties (Gently Curried Tofu Burgers). Finely crumbled, this is also a good substitute for ricotta cheese in dishes like lasagna. Like silken tofu, soft tofu can also be pureed and used as a soup or sauce base, with a somewhat heftier consistency.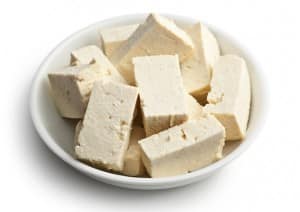 Firm or extra firm tofu: Available in 14- to 16-ounce tubs, use this when you want the tofu to hold its shape. Firm tofu is ideal for use in stir fries, stews, and as cutlets or nuggets such as the Baked Tofu Nuggets, following, or Barbecue-Flavored Tofu Nuggets.
Baked tofu: Of the tofu varieties listed here, this one is the most difficult to find in supermarkets. Look for this chewy, dense, and flavorful form of tofu in natural foods stores. Sliced, diced, or (with effort) crumbled, it can be used as a chicken or tuna substitute in stir fries, sandwiches, casseroles, and tortilla dishes (Tofu Fajitas, following). See also 5 Simple Ways to Use Baked Tofu.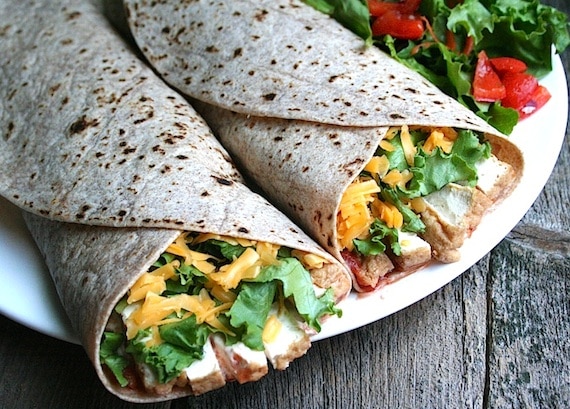 TOFU FAJITAS
In this super-easy, nearly-instant tortilla recipe, chewy baked tofu stands in for chicken. Letting the kids make their own fajitas becomes part of the fun! Photo above by Rachael Braun.
Makes: 8 fajitas (2 fajitas per serving)
8 fajita-size (6- to 7-inch) flour tortillas
10- to 12-ounce package baked tofu, cut into strips
Prepared salsa, your favorite brand
1 cup vegan sour cream
2 cups finely shredded lettuce
1 cup grated cheddar-style nondairy cheese, optional
Wrap the entire batch of tortillas in foil and warm in a preheated 400-degree F. oven or toaster oven. Place the tofu strips on a plate and microwave briefly until well warmed, about 3 minutes. Spread a little salsa and vegan sour cream down the center of each tortilla, then arrange a few tofu strips over them. Sprinkle with some lettuce, and if desired, a little cheese. Roll up snugly and eat out of hand.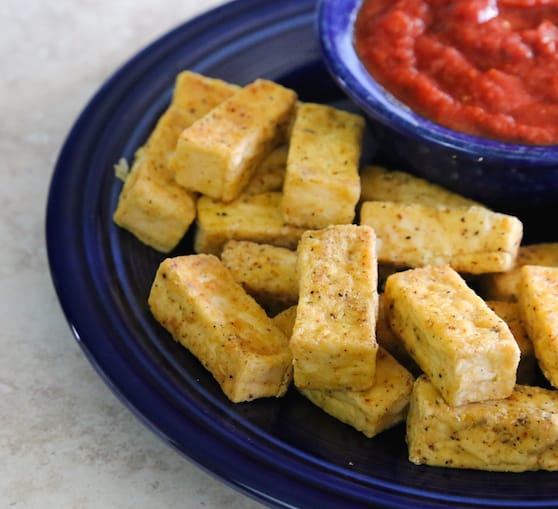 BAKED TOFU NUGGETS
These breaded nuggets become firm and chewy as they bake. Kids enjoy dipping them into their favorite sauce. If you have extra time, try these with VegKitchen's Quick Vegan Barbecue Sauce. Photo above by Evan Atlas.
Makes: 4 to 6 kid-sized servings
14- to 16-ounce tub firm or extra firm tofu
3 tablespoons wheat germ
2 tablespoons cornmeal
1 teaspoon seasoned salt
Marinara or barbecue sauce (warmed), or ketchup
Preheat the oven to 400 degrees F.
Cut the tofu into ¾-inch-thick slices. Blot well between clean tea-towels or several layers of paper towel, then cut into ¾-inch dice.
Combine the wheat germ, cornmeal, and seasoned salt in a mixing bowl. Add the tofu chunks and stir gently until evenly coated.
Arrange the tofu on a lightly oiled non-stick baking sheet. Bake for 15 minutes, stirring once or twice during this time, or until golden and firm. Serve at once with sauce of your choice for dipping or topping.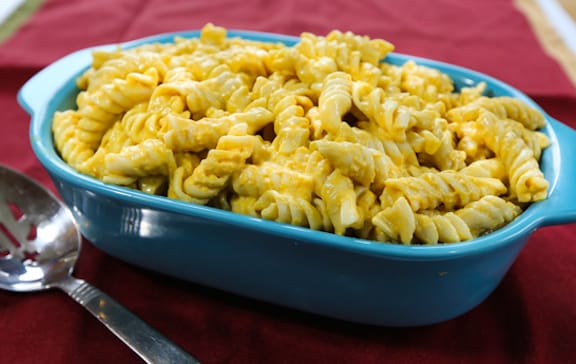 VEGAN MACARONI AND CHEESE (MADE WITH SILKEN TOFU)
The same children I tested this on 5 years ago still request this each and every time they come to my house for dinner. This basic macaroni and cheese is rich and comforting. Using pureed silken tofu as a base for the sauce gives the kids a good dose of tofu goodness.
Makes: 6 to 8 kid-size servings
10 to 12 ounces elbow macaroni (or other short pasta shape such as cavatappi)
12.3-ounce package firm or extra-firm silken tofu
2 tablespoons vegan buttery spread (like Earth Balance)
1 ½ cups firmly packed cheddar-style nondairy cheese
(Daiya is great, but use your favorite brand)
Salt to taste
Cook the macaroni in plenty of rapidly simmering water until al dente, then drain.
Meanwhile, puree the tofu until perfectly smooth in a food processor or blender. Transfer to a medium sauce pan and add the margarine and cheese. Slowly bring to a gentle simmer, stirring often, then cook over low heat until the cheese is thoroughly melted.
Combine the cooked macaroni and sauce in a serving container and stir together. Season with salt to taste and serve at once.
VARIATION: Bake in a casserole dish at 400 degrees F. for 20 to 30 minutes, or until the top is golden and crusty. To this variation, you can also add fine whole-grain breadcrumbs sprinkled over the top before baking.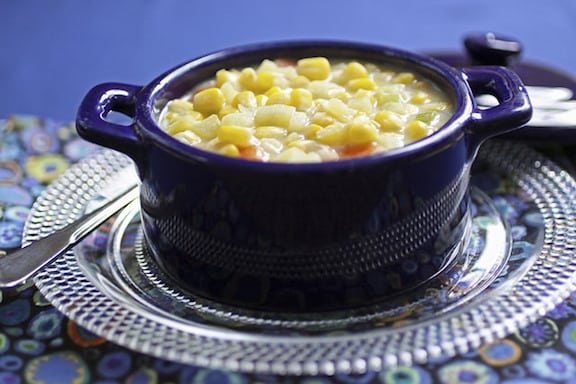 CREAMY CORN CHOWDER
Pureed silken tofu is a superb base for creamy soups, such as chowders. It provides substance without the need for thickening. The mild, familiar flavors will entice kids of all ages to enjoy a soothing bowl of soup. Photo above by Lori Maffei.
Makes: 8 kid-sized servings, or about 6 average servings
1 ½ tablespoons olive oil
1 medium onion, finely chopped
1 large celery stalk, diced
2 medium carrots, peeled and thinly sliced
2 medium-large potatoes, peeled and finely diced
½ teaspoon ground cumin
2 vegetable bouillon cubes
3 cups cooked fresh or thawed frozen corn kernels
12.3-ounce package silken tofu, well pureed in a food processor or blender
Rice milk, as needed
Salt and freshly ground pepper to taste
Heat the oil in a soup pot. Add the onion and celery and sauté over medium heat until golden.
Add the carrots, potatoes, bouillon cube, and cumin, plus just enough water to cover. Bring to a simmer, then cover and simmer gently until the vegetables are tender, about 25 to 30 minutes.
Stir in the corn kernels and pureed tofu. Add just enough rice milk to give the soup a medium-thick consistency.
Season with salt and pepper and simmer for another 10 minutes over very low heat. If time allows, let the soup stand off the heat for an hour or so before serving, then heat through as needed. Remove the bay leaves before serving.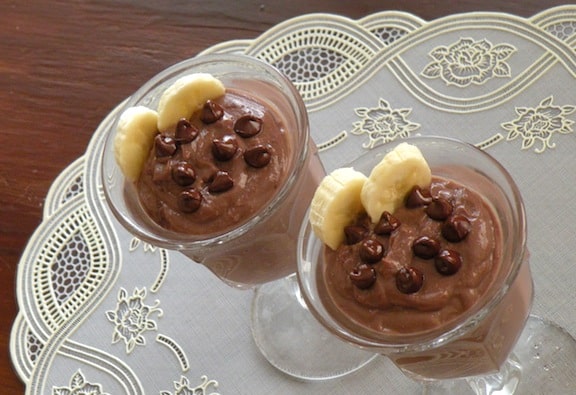 TOFU CHOCOLATE PUDDING 4 servings Silken tofu is a great base for pudding—it has just the right consistency, and it spares you from bothering with a flour-thickened milk sauce, which tends to scorch and lump.
14- to 16-ounce tub firm silken tofu
¾ cup semi-sweet chocolate chips
3 to 4 tablespoons agave nectar or maple syrup, or to taste
1 teaspoon pure vanilla extract, optional
Bananas and / or chocolate chips for garnish, optional
Puree the tofu in a food processor or blender until completely smooth.
Transfer to a small saucepan and add the chocolate chips. Cook over medium low heat, stirring often, until the chocolate chips have melted.
Stir in the maple syrup and optional vanilla. Allow to cool completely, or chill. Just before serving, garnish with sliced bananas and/or extra chocolate chips.