It may not quite be summer on the calendar today, but it's just about here. With heat settling all over, the weather takes no notice of the date. A cool meal is most welcome at times like this. The only heat needed for this light and tasty dinner featuring our almost-famous chickpea sandwich spread is a way to cook the potatoes, which you can do ahead of time — microwave or cook, whichever you prefer. Once that's done, this meal is a breeze.
Let's start with the tasty team of chickpeas and kale in Chickpea and Kale Sandwich Spread. It makes a great spread for bread, a filling for pita bread or a wrap (along with some tender lettuce and sliced tomatoes), or layered scoop of it on a sturdy flatbread and served open-face. You can also use a romaine lettuce leaf in place of bread, or just serve it as is.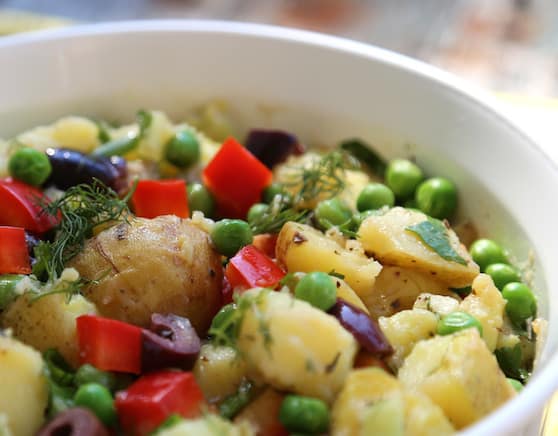 What is it about potato salad that always makes a meal feel like a picnic? And with so many great potato salads on this site, it's a tough choice? Our Herbed Potato Salad is a fine option, but so is Sweet and White Potato Salad with Mixed Greens. For even more options, explore Year-Round Potato and Sweet Potato Salads.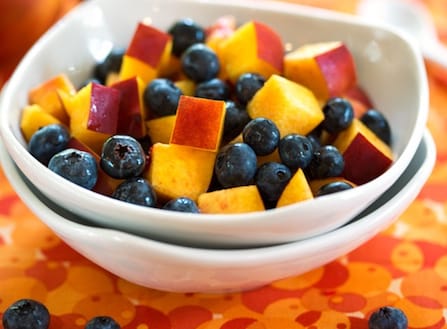 When the short season of summer fruit is upon us, that's the best dessert of all. These past few summers I've enjoyed teaming two or three fruits whose colors and flavors contrast and complement well. Honestly, you don't need a formal recipe or even quantities, but you'll find some good ideas in Simple Summer Fruit Medleys.
Photos: Top and bottom: Hannah Kaminsky; middle: Evan Atlas