Parties and celebrations help keep the winter blues at bay, whether for New Year's eve or day, Super Bowl (aka the big game), Oscar-watching. Or any impromptu gathering for whatever reason helps to allay the post-holiday let-down. For your next gathering, whether hosting or attending, it's handy to have a list of healthy, yummy snack ideas that can be made at the last minute. These are all vegan, super-quick to make, don't require special equipment or expensive ingredients, and are relatively healthy. So get your munchies on, and be prepared for any of these to disappear quickly!
Sweet and Savory Nuts and Pretzels, at top, is an easy snack or appetizer to make for the winter holiday season and beyond. It's also good for munching on while watching movies or sports.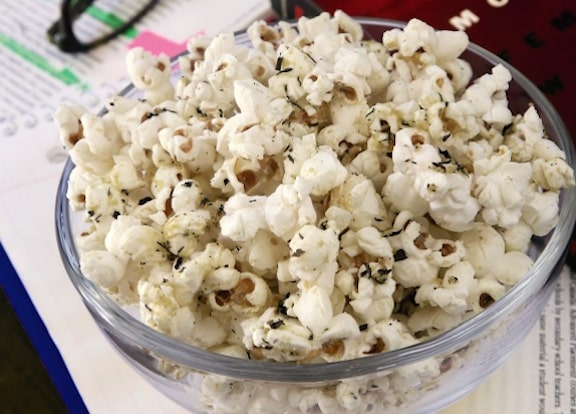 Thug Kitchen asks, when did we all fall under the spell of microwave popcorn? They urge you to make your own Stovetop Herb Popcorn, because it's cheaper and better for you.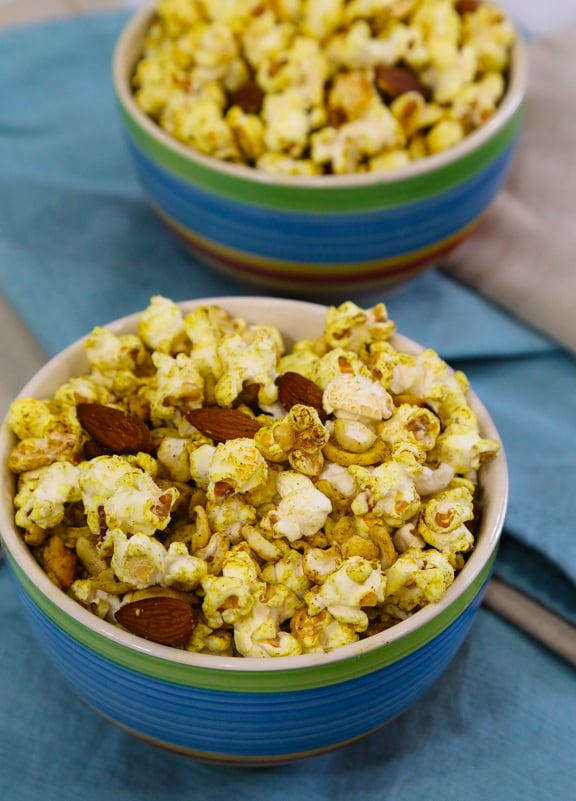 Curry Popcorn and Nuts is another savory seasoned popcorn mixture with a lingering bite, a grown-up snack that's good to have at parties.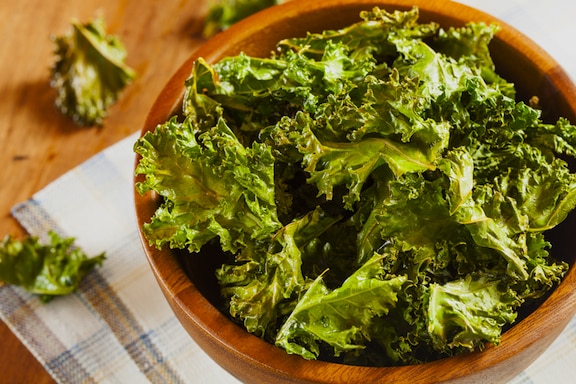 Here's a crash course on How to Make Basic Kale Chips. One of the trendiest and most popular things to do with kale is to transform it into crispy chips for snacking. Kale chip enthusiasts report that once these are out of the oven, they're instantly devoured by snackers of all ages.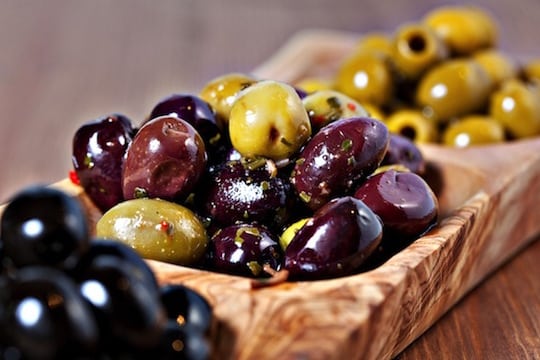 Combine a few varieties of olives from your supermarket's olive bar, and add some heat as you'd like in this simple recipe for Spicy Olives by Robin Robertson.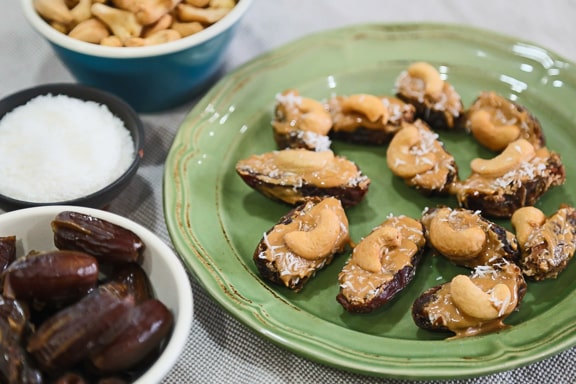 Nutty Cashew Dates is a healthy treat of nut-butter and cashew-stuffed dates. Give these a try when you need to whip up something quick for your family or guests. Simple but quite delicious!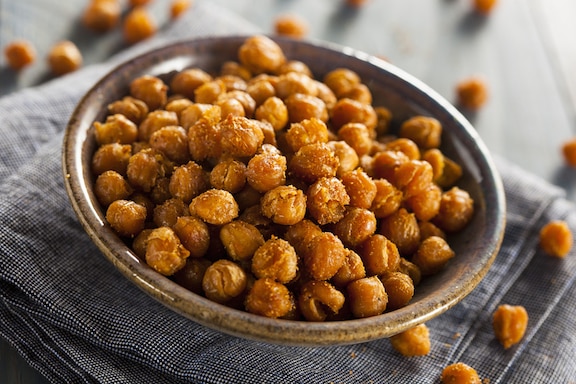 Skillet Spiced Chickpeas are good eaten out of hand as a snack in place of far more caloric nuts. These disappear quickly, so if you're serving a larger or hungrier crowd, double the recipe and use a larger skillet.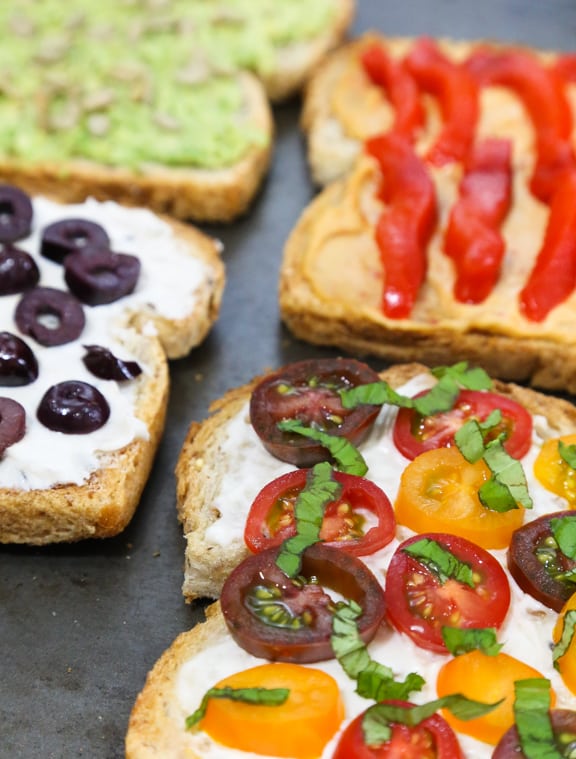 Most of us keep bread in the kitchen, so here are 8 simple vegan toast toppings that make a quick route to a snack. To serve a crowd, cut each slice into quarters diagonally. No need for recipes; just some good ideas, a few minutes, and a spreading knife!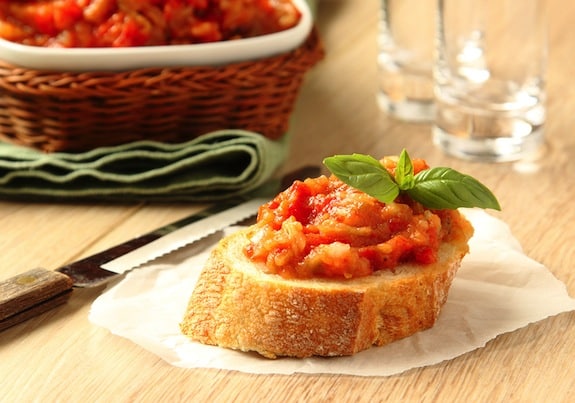 And in keeping with the bread theme, Bruschetta is garlicky baked bread slices that make a handy accompaniment for many dips and spreads. If you're too busy or lazy to make your own hummus or eggplant spread, you can always pick the readymade kinds at the store.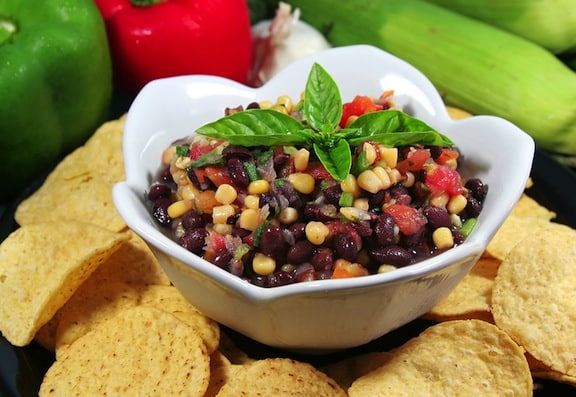 Store-bought salsas are often very good, but why settle for very good salsas when you can have really great ones, and usually in a matter of minutes? If you want to serve or bring salsa and chips to your next gathering but don't want to seem like a complete slacker, choose from one of these 8 fresh and tasty salsa recipes, and serve with stoneground tortilla chips.
Read Next: 5 Tips for Busy Cooks, Top Vegan Restaurants in Portland, Oregon, and Can The Apple Cider Vinegar Diet Help You Lose Weight?