We've all been there— the sluggishness, lethargy and general blah feeling that comes after holiday meals or simply celebrating much too heartily with food and drink. The good news is that these 5 great ways to cleanse your body after an evening (or days, as the holiday spirit sets in) of overindulgence are easy as well as tasty! Even if your indulgence consisted of not-bad-for-you foods, sometimes it's the sheer quantity of food and drink that can do us in.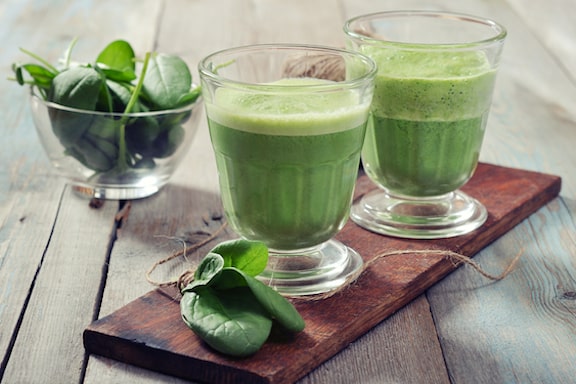 Green Smoothies
I'd say this is my #1 way to get back on the healthy eating track after falling off of it. Green smoothies have so many benefits in addition to their cleansing qualities. They hydrate, energize, get your digestive system in gear, are great for your skin, and more. If you have a regular blender, you can use spinach, arugula, and dark green lettuces; high-speed blenders are better for handling kale and collard greens. Be sure to explore our popular post on the Top 10 Benefits of Green Smoothies.
After having a meal that gives you indigestion or makes you feel bloated, a green smoothie is a perfect next-day antidote, filling yet light. Adding in superfood seeds like chia or hemp powers up your green smoothie even more. Here are a few of our favorites.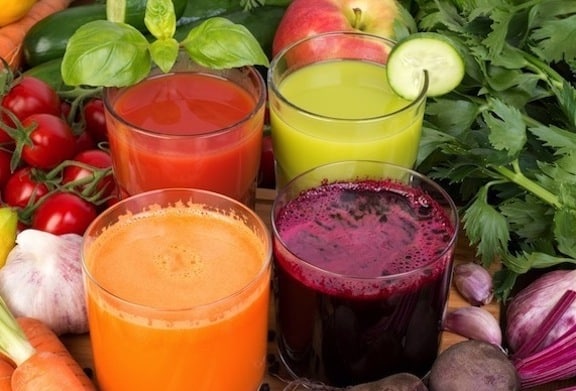 Fresh Juices
Juicing is believed to be a great route to overall health, and gut health specifically. It's hard to beat the fruits and vegetable goodness that can be packed into one great beverage. No  juicer? We give you full permission to go out and buy a big fresh juice from your local juice bar. After too much celebrating, good ingredients to go for in your juices are leafy greens, with added lemon juice and ginger, both super for the digestive system. Make sure your juice skews more toward veggies with a moderate amount of fruit for flavor.
Here are informative posts on 4 Reasons Why You Should Start Juicing, and Great Reasons to Juice & Blend.
ome of our faves that require a juicer:
If you don't have a juicing machine, you can still make this Refreshing Green Lemonade in a regular blender.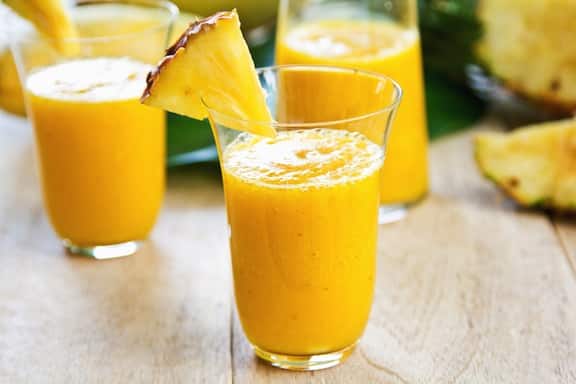 Apple Cider Vinegar Drinks
Apple cider vinegar drinks:  Among the many research-backed benefits of ACV are its properties as an aid to digestion and digestive ailments. Heartburn, acid reflux, and general bloat are greatly aided by ACV. A side benefit, which you'll see on our  popular page featuring apple cider vinegar and weight loss, is the possibility of shedding a few pounds (some readers have lost a lot of pounds!).
The biggest complaint about ACV is that some people don't enjoy its flavor. Fortunately, our post on  apple cider vinegar drink recipes features beverages that are not only tolerable, but actually quite tasty, and you'll find easy ideas like Virgin Mary-Apple Cider Vinegar Mocktail, Grapefruit-Apple Cider Vinegar Juice, and Cranberry Apple Cider Vinegar Cocktail. You'll also find links to other recipes for ACV drinks. Just be sure to use organic, raw, and unfiltered apple cider vinegar for full benefits.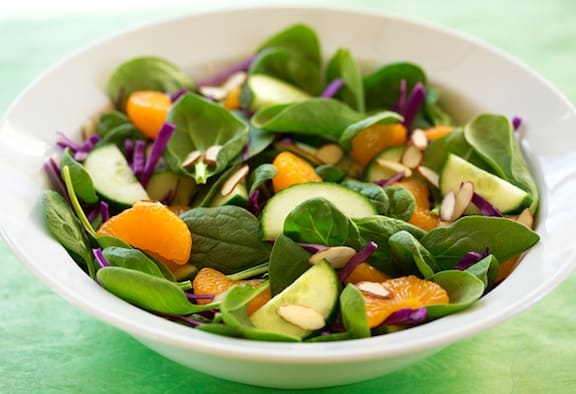 Cleansing green salads
You've heard the expression "my salad days" (which refers to a kind of youthful innocence and idealism) and every day should be a literal "salad day." No what your eating preference, some kind of mixed greens salad is always welcome on the menu. But especially on those days after you've had too much to eat, a salad of cleansing greens is particularly welcome.
You can use your creativity and personal preferences here, but a mix of lettuces, tomatoes, carrots, and peppers is a basic formula. Using spinach, arugula, and/or watercress instead of or in addition to lettuces or mixed greens is always a good move, and you can add other cleansing ingredients like cucumbers, root vegetables like daikon radish (which is known as an aid to digestion), beets, and apples or oranges. You'll find lots of easy ideas among our array of Colorful Green Salads.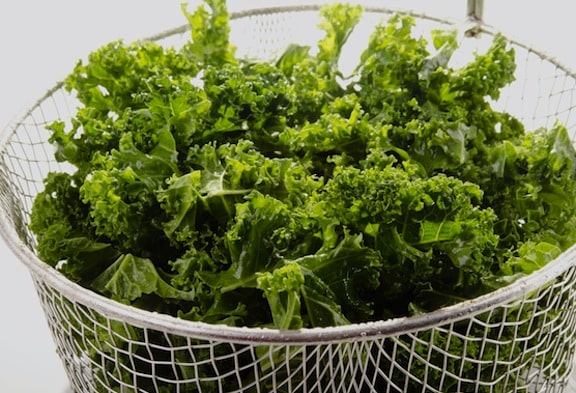 Leafy greens
We've mentioned leafy greens above in smoothie, juices, and salads, but it bears repeating — eat lots of leafy greens! Spinach, kale, collards, watercress, bok choy, arugula, mustard greens  … they're all great for you and act like brooms for the digestive system. Greens are the most nutrient-rich group of veggies, with a ton of benefits. 
Greens are a goldmine of vitamins, notably Vitamin A, B, and K, plus antioxidants and chlorophyll, which protect against cancers. They're also anti-inflammatory. So don't just save them for occasions after you've overeaten — makes sure leafy greens are a staple in your fridge all through the year!
Discover 5 Simple Ways to Eat More Leafy Greens — and you'll find recipes for leafy greens in Hardy Greens and Leafy Spring Greens