When winter chill sets in, salad isn't the first line of comfort our palates crave. And with good tomatoes in short supply (or very expensive), the usual kind of tossed salad doesn't always appeal, even as a side dish. It's still important to eat lots of fresh uncooked (or lightly cooked, in some cases) produce, no matter what the season. Here are 7 ways to make that happen, even in the dead of winter!
Sweeten the deal with fruit: Adding winter fruits to salads turns them into instant sunshine on a plate. Oranges, pears, and apples perk up otherwise savory salads. It hardly gets better, or easier than the Avocado and Orange Salad, at top. See the Cabbage, Apple, and Raisin Slaw, below. Or try Mixed Greens with Pears, Cranberries, and Pecans.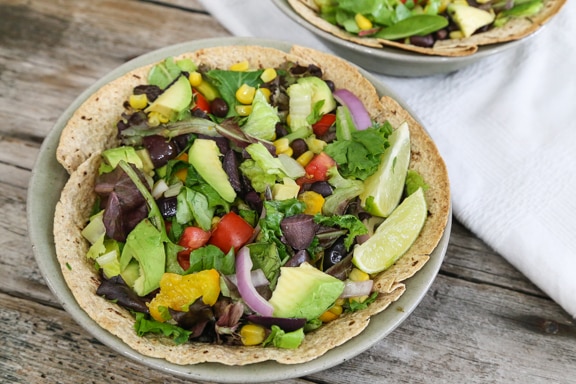 Serve in edible bowls: Serving small portions of salad in their own edible bowls gives them immediate appeal, even to young or picky eaters. The containers can be hollowed out tomato halves, red or green bell pepper halves, avocado halves, or even a whole wheat roll (with all but a ½-inch shell scooped out) Stuff them with grain salads, chickpeas, beans, greens, tofu, etc.. Try Southwestern-Style Salad in Tortilla Bowls  — a colorful salad made even more enticing by serving in its own baked tortilla bowl. Another is Asian Edamame and Tofu Chopped Salad served in bell peppers.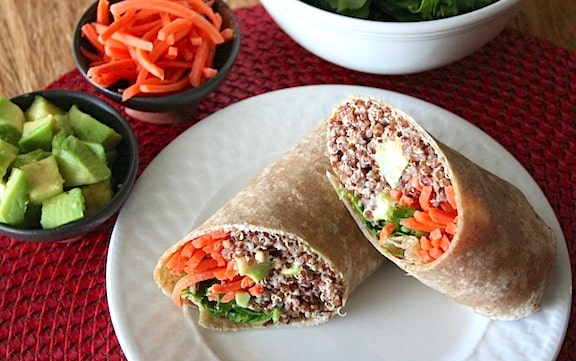 Wrap it: Most any kind of salad becomes a lot more appealing to salad skeptics if you wrap it up. In fact, I'll argue that many of the wraps on VegKitchen are salads in disguise! This kind of stealth salad is especially good with soups, or as a lunchtime option for kids with a more adventurous palate, or as a light dinner or portable lunch for anyone. A very basic variety is Tossed Salad Wraps, Hummus, Cucumber, and Avocado Wraps are a year-round delight, as are veggie-filled Asian-Flavored Quinoa Wraps, shown above.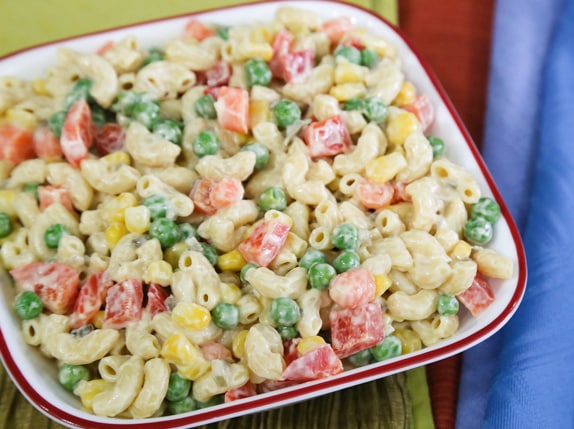 Just Add Noodles: Pasta salads are most often associated with summer meals, but winter pasta or noodle salads does push the concept of salads into comfort food. This mild and creamy Macaroni Salad with Vegetable Confetti is kid- and picky eater-friendly. Southwestern Pasta Salad with Avocado and Peppers is also sure to be a cool-weather hit.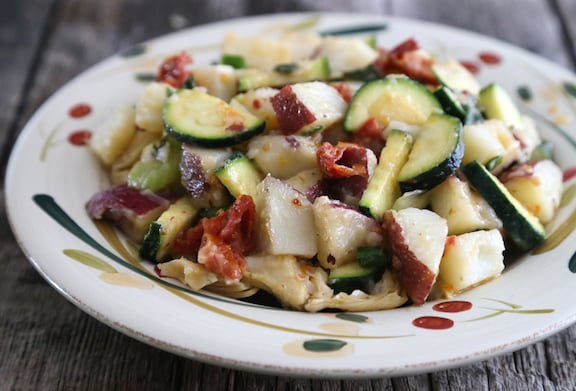 Don't Forget the Potato Salads: Like pasta salad, potato salads are associated with picnics and potlucks. But potatoes and sweet potatoes are standard winter vegetables, and so it makes sense to keep those potato salads coming — you can even serve them warm, as with Warm Mediterranean Potato Salad, above. Here's our round-up of robust Year-Round Potato and Sweet Potato Salads.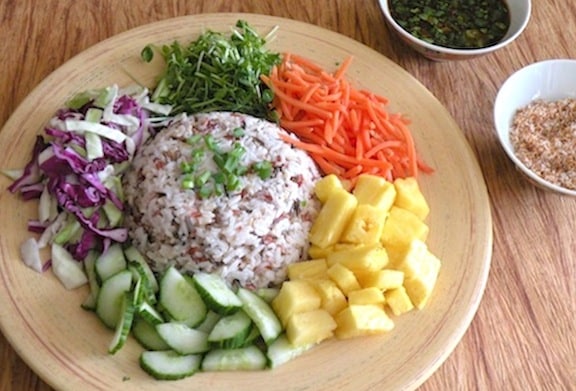 Compose it: Salads with separate elements can be especially enticing to picky eaters who don't like different things to "touch." Don't even call these "salads" and even the fussiest diners will gladly partake. A good one for cool weather is Thai Composed Rice Salad, above. Another good one for this time of year is Composed Sweet Potato, Quinoa, and Corn Salad.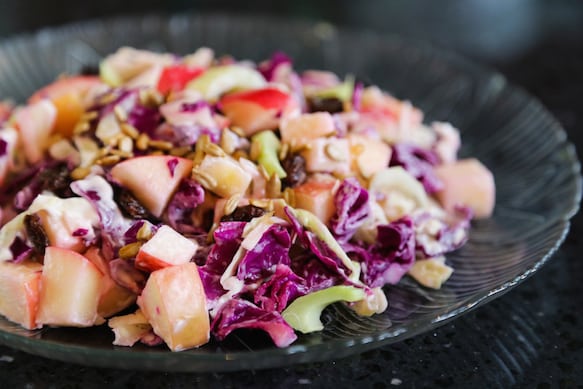 Serve a slaw: I've found that even the most intransigent salad-avoiders go for a good and simple slaw. Cabbage, Apple, and Raisin Slaw is another example of sweetening the deal with fruit, as in the first suggestion. For more slaws of all kinds, see 6 Easy and Tasty Slaws. A cool slaw is also a great topping for a sizzling dish, for example, BBQ Soft Tacos with Mexicali Slaw.