Few fruits offer a much sensory satisfaction as fresh strawberries. The season for good, ripe strawberries, particularly local ones, is rather fleeting compared with other fruits. The good news is that you can't eat too much of this Vitamin C-rich fruit. The bad news is that strawberries consistently rank near the top of lists of foods most heavily sprayed with pesticides. The only answer is to buy organic strawberries. Yes, they are more expensive, but they're usually also riper, sweeter, and juicier than mass-produced strawberries.
Here are some ways to make the most of strawberries when they're in season:
Slice them and make a sweet-and-savory salad with spinach or baby greens, toasted pine nuts or almonds, cucumbers, radishes, and a raspberry vinaigrette.
Use them in smoothies, combined with bananas and/or blueberries.
Make luscious cold dessert soups with strawberries and other berries.
Alternate them with chunks of melon, fresh pineapple, and grapes on skewers, to make an appealing snack for kids of all ages.
Slice them thinly and sprinkle with just a little sugar, which will draw out juice. Let them stand for about 15 to 30 minutes this way to create an easy topping for nondairy ice cream.
Cut them in half and combine with blueberries in a bowl for a very simple but really pretty fruit salad.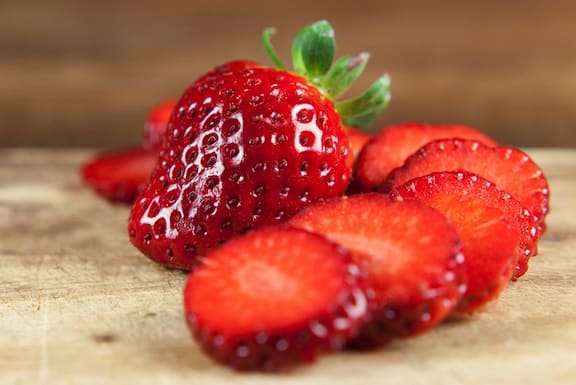 Here are a few of VegKitchen's strawberry recipes: