Zucchini is available and economical all year round, though it's midsummer to early fall when it's most abundant in gardens and at farm markets. So for your enjoyment, here are VegKitchen's 12 best healthy zucchini recipes, from "zoodles" to sweet muffins and everything in between — plus some alternates that are also among our best.
1  Zucchini "noodles"
Everyone needs a good zucchini "noodles" (or as some call them, "zoodles") recipe or two in their repertoire, and Gena Hamshaw's Zucchini Pasta with Mango, Avocado, and Black Bean Salsa (at top) is easy and impressive. 
See also: World's Easiest Peanut Satay Noodles. For a zucchini "noodle" recipe you can make without a spiralizer, see Zucchini Fettuccine with Fresh Tomato Salsa.
2  Zucchini with pasta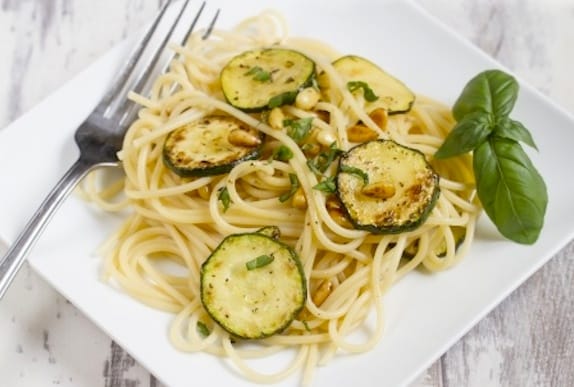 Now, let's get an actual pasta dish into the mix. Spaghetti with Zucchini, Garlic, and Basil is an embellished version of pasta aglia olio (garlic and oil), an Italian classic suitable for warm weather, but welcome any time you crave a light yet satisfying pasta dish. It's especially good when tender small zucchini come to market in midsummer.
See also: Basil and Sun-Dried Tomato Pasta.
3  Zucchini on pizza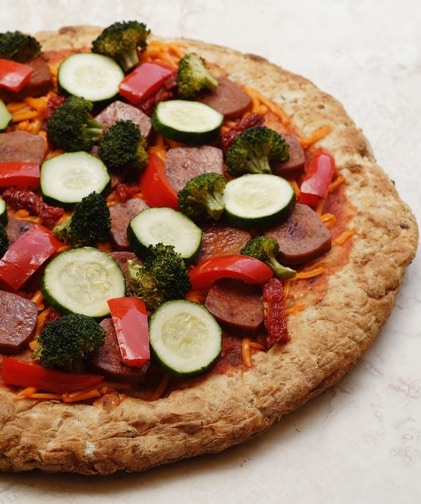 Zucchini is a good pizza veggie that' often overlooked. This hearty Roasted Veggie Pizza is a good one for hearty appetites. Feeding a larger crowd? The recipe is easily doubled to make two pizzas.
4  Zucchini stew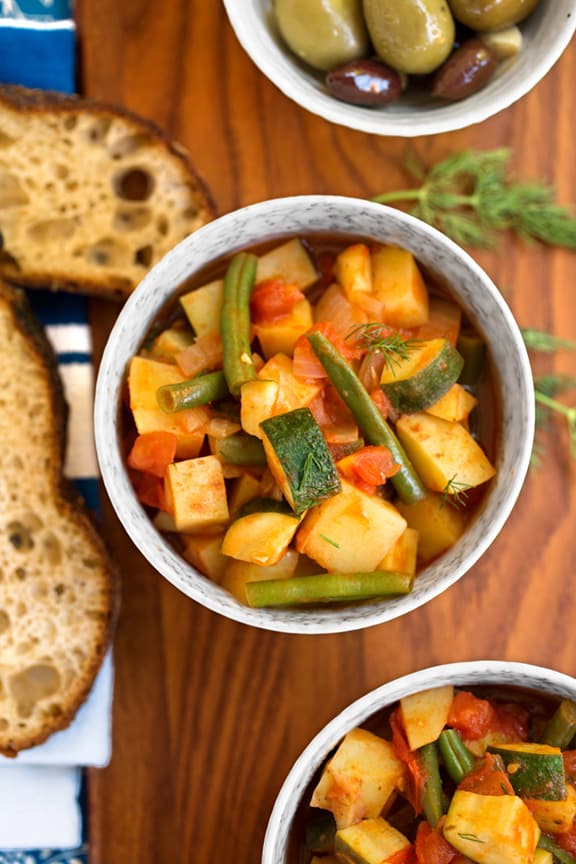 Greek Potato Stew with Zucchini and Green Beans bursts with summery flavors in a mellow tomato base. A fresh, crusty bread rounds out the meal along with a big green salad with some chickpeas tossed in.
See also: Classic Ratatouille
5  Zucchini soup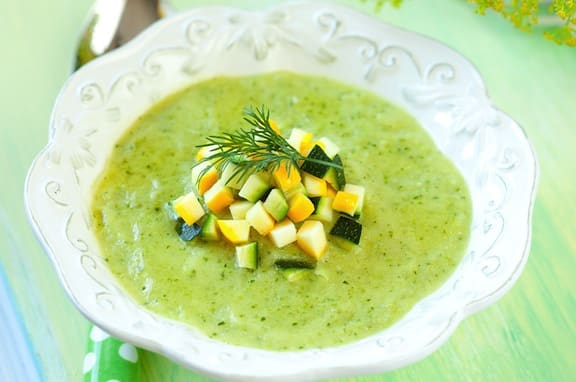 Tasty and comforting, Creamy Zucchini Soup is also easy to prepare. It's a perfect soup for late summer, when zucchini are in abundance. This is good served hot or chilled.
6  Zucchini casserole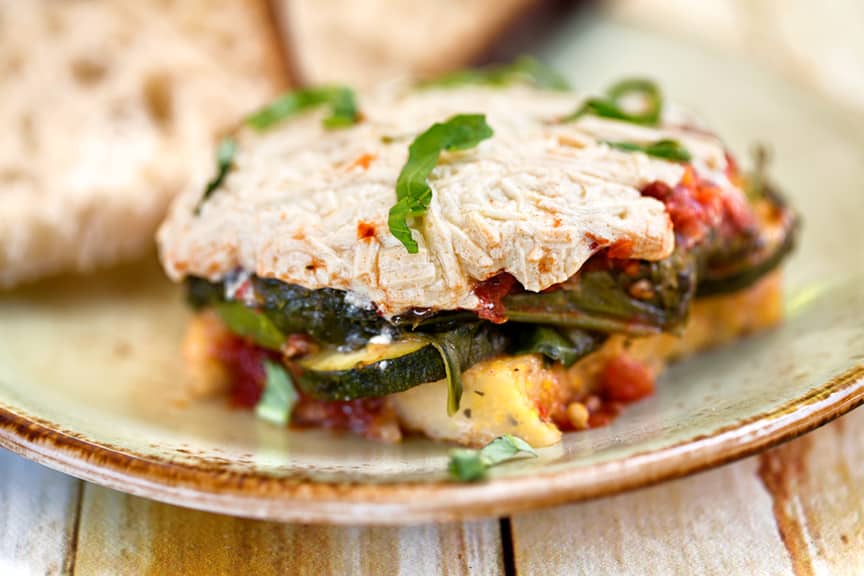 Baked Polenta Casserole with Zucchini and Spinach uses the kind of polenta that comes in a tube. Smothered in marinara sauce and topped with melty vegan cheese, it's almost so embarrassingly easy to make, but such a crowd-pleaser. 
See also: Black Bean and Zucchini Tortilla Casserole
7  Zucchini bowl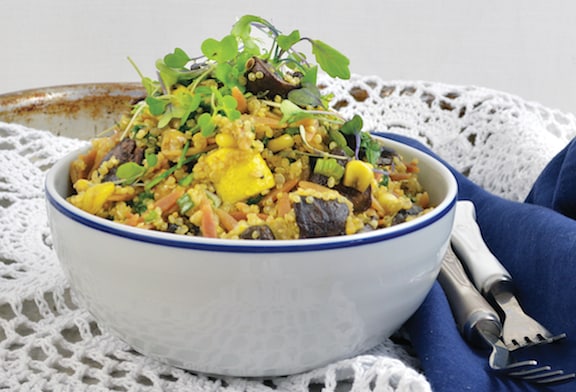 In Zucchini and Mushroom Pilaf Bowl, zucchini and mushrooms are roasted to perfection and stirred into a quinoa pilaf that is accented with scallions and arugula. 
8  Zucchini side dish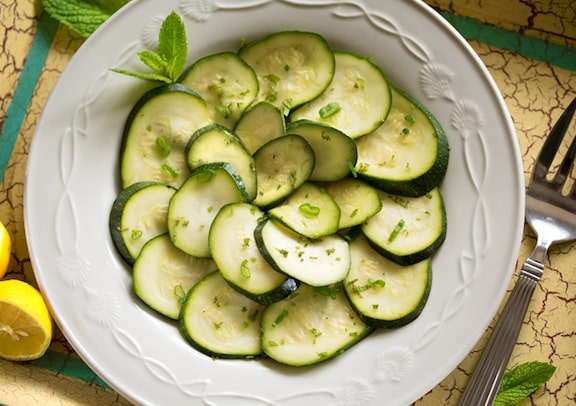 Zucchini is always welcome as a side dish. Zucchini with Mint is a simple preparation of adapted from a Sicilian classic. It's welcome in late summer or early fall, when both are abundant.
See also: Zucchini with Zip.
9  Zucchini salad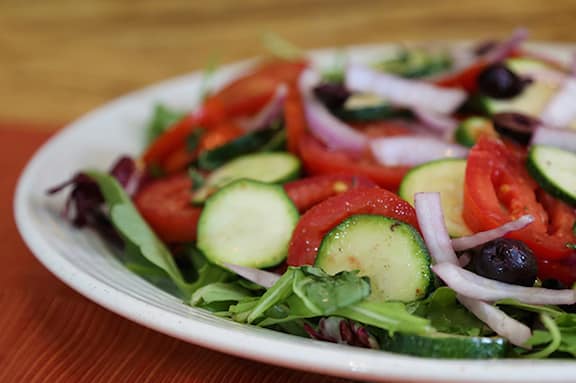 Zucchini, Tomato, and Red Onion Salad is a good one to make when these ingredients are abundant in late summer. Red onions, parsley, and olives add great flavor. I prefer Roma tomatoes in this salad, as their slices match the zucchini and they get less watery when standing, but use any ripe tomatoes you have available.
10  Roasted Zucchini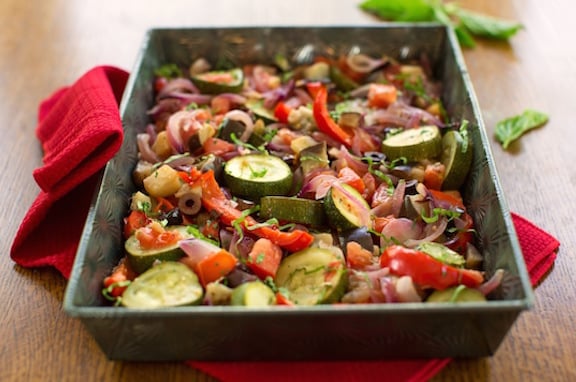 Enjoy the flavors of summer, even during cold weather. The vegetables that make the classic French stew so delicious — eggplant, zucchini, bell pepper, and tomatoes become Roasted Ratatouille for similarly delectable results in a hot oven.
11  Zucchini Fries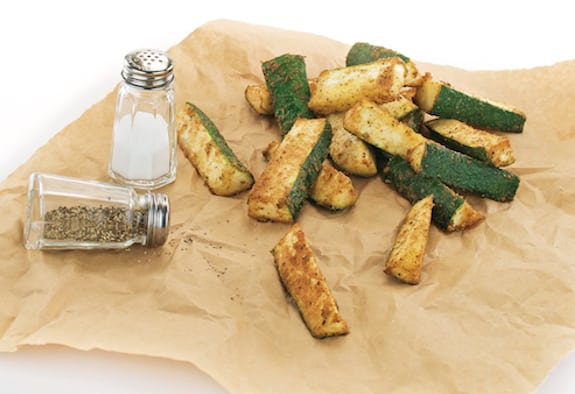 Once you've had your fill of the usual zucchini preparations, make a few batches of Zucchini Masala Fries for a nice change of pace. They're easy to whip up, and the Indian spices will add some zing to your next dinner party. This is a great appetizer as well as a side dish. 
12  Zucchini muffins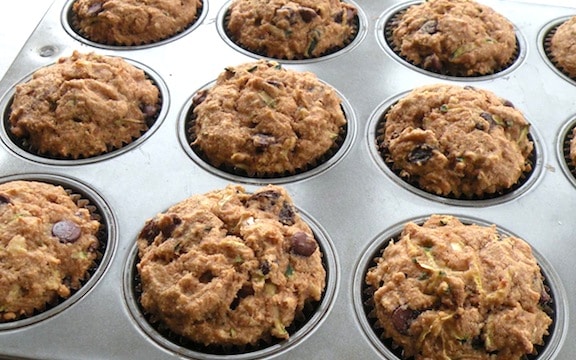 Finally, what's a healthy zucchini recipes round-up without a good muffin recipe? Vegan Zucchini-Raisin Muffins give you the classic  combo in an egg-free, dairy-free rendition. Use them as an alternative to sandwiches for brown-bag or school lunch, or as a healthy snack. For this recipe, the chocolate chips and walnuts are optional, but I like to use them both!