"Too many tomatoes!" We've all heard this lament—especially after a long, hot summer. Whether you grow them in your own garden or buy them from the local farm market, here are lots of easy, delicious summer tomato recipes, whether you believe they can get to be too much of a good thing, or if you truly can't get enough of them. 
If you love summer tomatoes and need lots of easy and creative ways to use them, you'll enjoy Fresh Summer Tomato Recipes, part of our Best of VegKitchen series of affordable pdf e-books on the most popular subjects on the site. Learn more about the Fresh Summer Tomatoes e-book by following this link.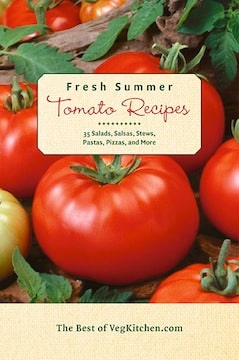 The biggest mistake people make is to refrigerate tomatoes. This compromises their flavor and gives them a mealier texture. Better to buy or harvest what's needed for near term and store on a countertop, away from direct sun.
Tomatoes are so commonplace that we sometimes fail to acknowledge them as the nutritional powerhouses that they a–re. One medium tomato can provide the following Daily Values: 40% Vitamin C, 20% of Vitamin A and 10% of Potassium. Tomatoes are also the richest sources of lycopene, an antioxidant that has been found to produce numerous health benefits, including protection from certain cancers.
The best reason to enjoy tomatoes in late summer is for their incomparable flavors and their versatility in the kitchen. Enjoy them by the bushel while they're at their peak of flavor. If you're looking for a few easy, recipe-free ways to use tomatoes, see 5 Easy Ways to Use Tomatoes. Otherwise, here is a selection of VegKitchen favorites: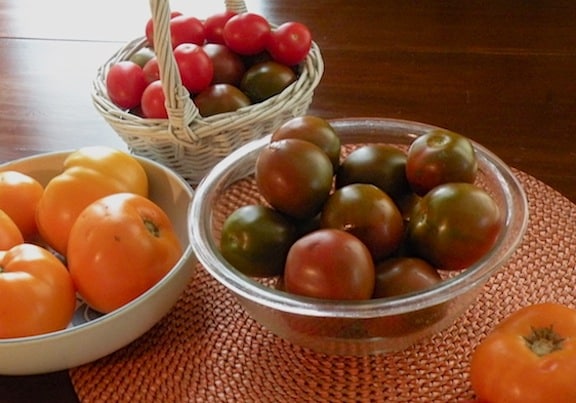 Salads
Soups
Pasta & Noodles (Cold and Warm)
Sauces & Such
Appetizers, Sides & More
Tofu Dishes