Why center your Thanksgiving dinner on the turkey? With many trusted and tasty recipes online, creating a vegan Thanksgiving menu can be simple, delicious and compassionate.
Browsing our favorite vegan Thanksgiving recipes can make it fun to plan a vegan Thanksgiving dinner that is sure to please everyone at the table. Vegan recipes for appetizers, soups, vegetable side dishes, main courses, breads and desserts will ensure no one misses the meat.
As guests arrive for the meal, have a plate of whole-grain vegan crackers and sliced raw vegetables with a light, creamy dip, like a Green Pea, Parsley and Pistachio Dip or a Spinach and Cucumber Spread. Vegan Ranch Dressing is also a traditional favorite that will appeal to those who are less adventurous with food.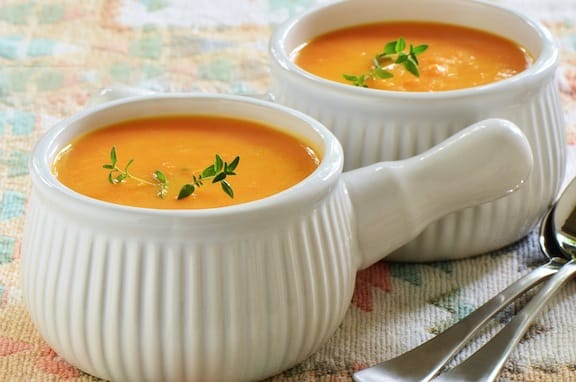 Start the meal with small cups of soup to warm guests coming in from the chill. A vegan Ginger-Carrot Soup is a nice option to start a big meal, as ginger root is a natural metabolism enhancer. Staying light yet comforting is key to a Thanksgiving starter, so other options can include Apple and Butternut Squash Soup or a simple but traditional Sweet Potato Soup.
Vegetable side dishes can take center stage at the vegan Thanksgiving table, because guests are able to sample so many options. Be sure to include a green salad like a Vegan Kale Caesar Salad or a colorful option like a Cranberry Kale Salad. A beautifully presented vegetable, such as a Cauliflower Crown Roast, will make guest smile as they try a savory slice. These are easy to prepare ahead of time as well.
However, creating a special vegan Thanksgiving main course will ensure that no one misses the turkey. The Classic Veggie Shepherd's Pie is a hearty option, and the Three Sisters Stew keeps with the tradition of the holiday and adds a filling portion of protein. Rice and Pecan Stuffed Squash is one of the most popular options, because guests can each enjoy their own special portion.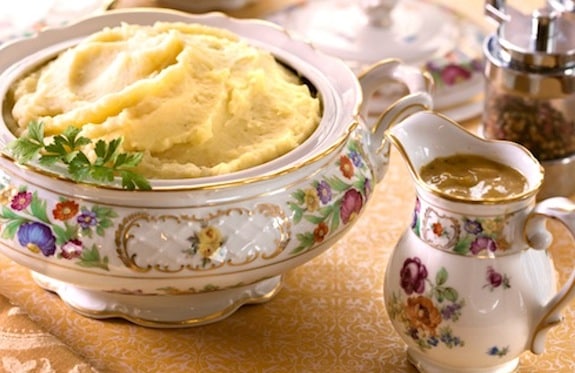 Mashed potatoes are a staple of a Thanksgiving meal that doesn't have to be missing on the vegan Thanksgiving table, either. Make them extra special by adding surprising touches like the gravy in the Mouthwatering Mashed Potatoes with Groovy Onion Gravy or garlic in a heaping bowl of Roasted Garlic Mashed Potatoes. Don't forget the cranberry sauce! A Cranberry Orange Sauce is sweet and tart, creating a lively contrast to the other starchy dishes.
Homemade breads are also a delicious accompaniment to any Thanksgiving table, and animal products simply aren't necessary for this crumbly, irresistible side dish. Pumpkin mini loaves are small enough to be in easy reach of everyone at the vegan Thanksgiving table. Or consider baking a batch of Corn Kernel Cornbread Muffins, which remind guests of the harvest season and go particularly well with soups or stew.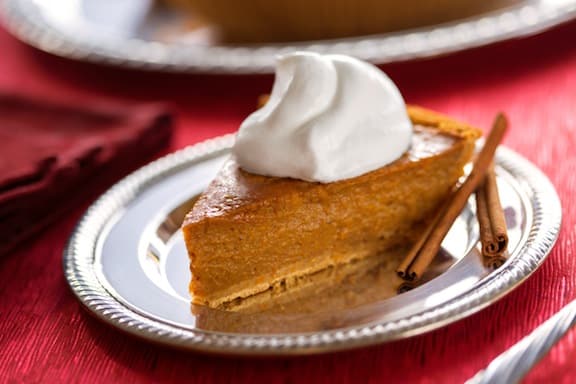 Did everyone save room for dessert? Vegan Thanksgiving dessert recipes can shine on this holiday, when people are surprised by how creamy and satisfying vegan sweets can be. Try a gluten-free Vegan Praline Pecan Pumpkin Pie for the traditionalists, or a Chocolate Pumpkin Pie for something different. Consider investing in an ice cream machine to really impress guests with a vegan Cinnamon Ice Cream that is sure to please.
Many of these vegan Thanksgiving recipes can be made a day or two in advance, leaving plenty of time on the big day to share smiles and thanks with loved ones for a Thanksgiving meal that emphasizes kindness for all living creatures.